Moto FBM (Fabbrica Bolognese Motocicli) 224 Via Battindarno, Bologna, Italy was founded in 1951 by Vittorio Minarelli and Franco Morini, nephew of Alphonso Morini. The two young Italian engineers produced 125 to 250cc motorcycle engines for other makers.
In 1954 Minarelli and Morini made their first moped engine, the P48 Pettirosso, a 48cc 2-stroke 2-speed cable-shift type, and later the P3 3-speed version. See Misc Italian, scroll to Moto FBM.
In 1956 Moto FBM split into F.B. Minarelli and Motori Morini Franco. See Minarelli Motor.

Motori Morini Franco is not Moto Morini. Moto Morini was founded in 1937 in Bologna Italy by Franco Morini's uncle, Alphonso Morini. Alphonso Morini was an accomplished motorcycle racer and mechanic. Since 1925 he was building motorcycles and setting world records. Moto Morini is most famous in the US for their 1970's 350cc V-twin motorcycle, Moto Morini 3½. See Wikipedia.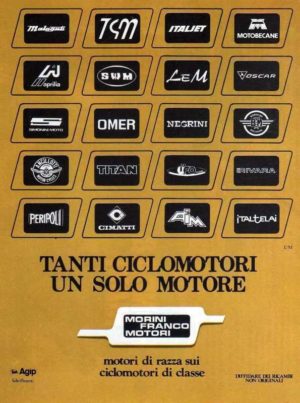 Motori Morini Franco is not F. Morini. F. Morini is a US-model moped brand name, made by Lem. See F. Morini.
Hereafter, "Morini" means "Motori Morini Franco", not the others.
Here their 1979 ad proclaims "tanti ciclomtori, un solo motore"
(many mopeds, only one motor).
Motori Morini Franco engines have been used by (US brands in red):
AIM, Aprilia, Arciero, Baretta, Benvenuti, Beta, Bianchi, B.M., BSA,
Chiorda, Cimatti, Cosmo, Colt, D.M.T., F. Morini, Factory Bike (Spain),
Fantic, Garelli, Husqvarna, Intramotor, Intramotor-Gloria, Italjet,
Italvelo, Italtelai, ITOM, KTM. LEM, Macbor (Spain), Malaguti,
Mecatecno, Monark, Motobecane Sebring, Moto Gori, Moto Meteora,
Moto Müller, Moto Villa, Negrini, NVT, Omer, Oscar, Pacer, Paloma,
Peripoli, Proxon, Rivara, Scorpion, Snark, Spisni Lino, S.W.M.,
Tecnomoto, T.G.M., Titan, TM Racing, Ufo, Velomec, Viking, West Wind.
 Contents:
 

 1.

 

Combined Parts List

for '72-88 US models




 

           

– – – – – < p a r t i t i o n > – – – – –




  

2.

1950's 50-70cc

2,3-speed

 vertical-cylinder


  

3.

 1960's  50cc

1,2,3-speed

 vertical-cylinder


  4.

1960's   50cc 

four-speed

 vertical-cylinder


  

5.

1970's   50cc

 

1, 2-speed 

horizontal-cylinder




  6.

1970's   50cc 

one-speed

vertical-cylinder


  

7. 

1980's   50cc

 

1, 2-speed 

horizontal-cylinder




  8.

 1980's   50cc  one-speed 

vertical-cylinder




  

9. 

1990's   50cc 

1, 2-speed 

horizontal-cylinder


10.

 1990's   50cc  one-speed

 vertical-cylinder
---
1. 

Combined Parts List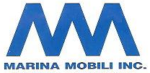 This list came from the 1980 Marina Mobili Parts Catalog (black notebook) and 1985 Marina Mobili Parts Catalog and Master Price List, with 1988 updates (yellow notebook). It is for US models 1976-88. Other models from different times and places might also have some of these parts. 
MMI: In the late 1970's US moped dealers got their Morini engine parts from the bike brands they carried, such as Negrini, Malaguti, and Pacer. In the 1980's Marina Mobili Inc (MMI) bought out those and many other brands, and combined the inventory into one source. MMI also imported parts directly from Italian manufacturers like Franco Morini, Minarelli, Dellorto, CEV, Grimeca, and others. Besides pedal-powered mopeds, Franco Morini 50cc kick-start engines were on US models of mini-cycles, such as 1970's Indian (Italjet). Parts for those with S5K2, S5E, S5N, S5R, and S5T 50cc engines are included in this MMI master list.
Eight applications columns contain illustration numbers from these six illustrations.   
Prices: bright green is new, dark green is used, N/A is not available. Specifications are in orange.
Morini numbers from Marina Mobili 1988 price list are in dark blue. Add-ons are gold.
Illustration numbers: black means "on all", gray means "on some", 000 is "on none", 000 is "on all, not shown"
Franco Morini Part Number Index
10-0000 crankshafts 12-2000 cylinders x    15-0000 air covers x  20-1000 springs xx  26-1000 rings
10-1000 shafts xxx   12-4000 covers xxx    16-0000 gears xxxx   20-6000 shoes xxx  26-5000 cases
10-4000 clips xxxxx  12-6000 ball bearings 16-1000 rol. bearings 23-0000 pistons x   26-8000 pins, caps 
10-5000 snap rings   12-7000 (mixed) xx   16-3000 rubbers xxx  23-2500 sprockets   27-0000 drums
10-6000 seals xxxx   13-1000 nuts xxxxx   16-4000 gaskets xxx  23-5000 studs xxxx 27-5000 heads  
10-7000 o-rings xxx  13-3000 nuts xxxxx   16-7000 roll pins xx   25-1000 intakes xx  29-0000 magnetos
11-0000 con. rods x  13-5000 plates xxx    18-1000 gears xxXxx 25-4000 washers xx 29-1100 slot bolts
11-5000 bushings X  13-6000 spacers xxx  19-1000 levers  xxx   26-0500 seal sets x  29-1900 allen bolts
12-0000 carburetors 14-0000 tools xxxxx   20-0000 clutches x    26-0600 gasket sets 29-4000 hex bolts

Here are the right side clutch covers, useful for identification. All are 50cc automatic transmission.
All except S5R are limited in power and speed. M1 also has a kick version M1K, not shown here.




000MO1 000 M1 000 S5K2 00  S5T
 MO000 MO2 00 M101000 S5R 000   Morini#  price   description  rods are all 13.0 wide at piston pin
042 042 000 000 000 000 000 000  10-0009   N/A  crank shaft, bushing-type rod 3 oil hole for MO, MO1
000 000 000 034 000 000 000 000  10-0015   N/A  crank shaft, bearing-type rod 1 oil hole M1 (fits MO1)
000 000 000 000 000 031 000 000  10-0033   N/A  crank shaft, bushing-type rod 3 oil hole for S5K, early S5K2
000 000 035 000 000 000 000 000  10-0042   N/A  crank shaft, bushing-type rod 3 oil hole for early MO2
000 042 000 000 000 000 000 000  10-0045   N/A  crank shaft, bushing-type rod 3 oil hole (use 10-0009)
000 000 035 000 000 000 000 000  10-0046   N/A  crank shaft, bearing-type rod 1 oil hole for late MO2
000 000 000 000 029 000 000 000  10-0049   N/A  crank shaft, bearing-type rod 1 oil hole for M101
000 000 000 000 000 031 000 000  10-0052   N/A  crank shaft, bearing-type rod 1 oil hole for late S5K2
000 000 000 000 000 000 000 000  10-1011   N/A  shaft, starting xxxxxxxxxxxxx      for S5K (back-kick)
098 098 000 083 000 000 000 000  10-1020   N/A  shaft, pedal xxxxxxxxxxxxxxx      for MO, MO1, M1
000 000 000 000 000 000 000 000  10-1024   N/A  shaft, drive with gear xxxxxxxxx  for S5K
084 084 000 000 000 000 000 000  10-1028   N/A  shaft, prim. with gear 10T x ???   for MO, MO1
085 085 082 000 000 000 000 000  10-1029   N/A  shaft, drive with gear 26T x ???   MO,MO1, pre-Jan'78 MO2
000 000 097 000 000 000 000 000  10-1035   N/A  shaft, pedal xxxxxxxxxxxxxx       for MO2
000 000 081 000 000 000 000 000  10-1036  $35  shaft, prim. with gear 10T x 17.0 for MO2 (new but rusty)
000 000 000 000 000 062 062 000  10-1051   N/A  shaft, drive with gear xxxxxxxxx  for S5K2, S5R
000 000 000 000 000 048 048 000  10-1052   N/A  shaft, starting xxxxx Ø16     xxxx  for S5K2, S5R
000 000 082 000 000 000 000 000  10-1076   N/A  shaft, drive with gear 26T x ???   for post-Jan'78 MO2
000 000 000 071 000 000 000 000  10-1087   N/A  shaft, prim. with gear 10T? x ??   for M1
000 000 000 072 000 000 000 000  10-1088   N/A  shaft, drive with gear 26T? x ??   for M1
000 000 000 000 000 000 000 000  10-1089   N/A  shaft, prim. with gear xxxxxxxxx for  ??
000 000 000 000 056 000 000 000  10-1091   N/A  shaft, prim. with gear xxxxxxxxx for M101
000 000 000 000 104 000 000 000  10-1093   N/A  shaft, pedal xxxxxxxxxxxxxx       for M101
000 000 000 000 057 000 000 000  10-1098   N/A  shaft, main xxxxxxxxxxxxxxx      for M101
000 000 000 000 000 000 000 048  10-1109   N/A  shaft, starting xxxxxxxxxxxxx     for S5T
051 051 042 047 051 34A 034 034  10-4001    $2  clip, wrist pin for Ø12 hole
071 071 000 065 000 000 000 000  10-4006    $8  clip, clutch plate for Ø84 hole for MO1, M1
102 102 111 090 111 072 000 000  10-5005    $2  snap ring, outer for Ø16 shaft
000 000 094 000 000 000 000 000  10-5006    $2  snap ring, outer for Ø12 shaft for MO2
000 000 083 062 000 000 000 000  10-5009    $3  snap ring, outer for Ø22 shaft for MO2, M1
000 000 000 000 102 000 000 000  10-5011   N/A  snap ring, outer for Ø6 shaft for M101
000 000 000 000 000 081 081 081  10-5019   N/A  snap ring, outer for Ø?? shaft late S5K2, S5R
000 000 000 000 000 000 000 000  10-5020   N/A  snap ring
000 000 000 000 079 000 000 000  10-5023   N/A  snap ring, inner for Ø?? hole for M101
000 000 000 000 081 000 000 000  10-5024   N/A  snap ring, outer for Ø?? shaft for M101
000 000 000 000 068 000 000 000  10-5028   N/A  snap ring, outer for Ø?? shaft for M101
057 057 047 038 033 038 038 038  10-6001    $8  seal, crank shaft  17 x 35 x 8 (or 7)
092 092 104 000 000 000 000 000  10-6003    $6  seal, drive shaft  15 x 24 x 5
105 105 113 088 109 000 000 000  10-6004    $7  seal, pedal shaft  16 x 24 x 5
000 000 000 079 091 064 064 064  10-6008    $8  seal, drive shaft  15 x 24 x 7 (or use 15x24x5)
000 000 048 000 000 000 000 000  10-6012    $8  seal, crank shaft  20 x 35 x 8 (or 7)
000 000 000 000 097 000 000 000  10-6019   N/A  seal, engage shaft 6 x 15 x 4
000 000 000 000 080 000 000 000  10-6020   N/A  seal, variator    19 x 24 x 3.8
000 000 000 000 074 000 000 000  10-6021   N/A  seal, variator    13 x 19 x 3
000 000 000 000 000 000 038 038  10-6025    $8  seal, crank shaft  17 x 35 x 7 for 1990's-2000's S5 
078 078 000 067 000 000 000 000  10-7002    $2  o-ring, starting lever Ø2 x 9 id (13 od) for MO, MO1, M1
000 000 000 000 000 060 000 000  10-7003   N/A  o-ring, starting shaft Ø2 x 14?id (18?od) S5K, S5K2 
000 000 000 000 000 000 000 000  10-7024   N/A  o-ring, starting shaft Ø2 x ?? id (?? od) for S6  
000 000 000 000 101 000 000 000  10-7530    $3  engage shaft Ø6 for M101
000MO1 000 M1 000 S5K2 00  S5T
 MO000 MO200  M101000 S5R 000   Morini#  price   description
049 049 129 000 000 000 000 000  11-0004   N/A  connecting rod assy, bushing-type for MO, MO1, early MO2
000 000 129 035 030 032 000 000  11-0015   N/A  connecting rod assy, bearing-type late MO2,M1,M101,S5K2
000 000 000 000 000 000 000 000  11-0021? $35  connecting rod assy, bearing-type for ??
000 000 000 000 000 000 000 000  11-0035   N/A  connecting rod assy, bearing-type for Lem Cayman 50 ATV
000 000 000 000 000 000 000 000  11-0049   N/A  connecting rod assy, bearing-type for  FM65 Lem RX65
000 000 000 000 000 032 000 000  11-1005   N/A  connecting rod bare, bushing-type for S5K, early S5K2
048 048 132 000 000 000 000 000  11-5001    $8  bushing, piston Ø11.75 Ø15.05 x 15 MO, MO1, early MO2, S5K
048 048 132 000 000 000 000 000  11-5001  cont. ⇑ requires reaming to ∅12.0 and drilling after it is pressed in,
048 048 132 000 000 000 000 000  11-5001  cont. ⇑ with an adjustable reamer and a precision holder tool.
090 090 103 000 000 000 000 000  11-5002   N/A  bushing with lip prim. shaft Ø13 Ø17 x 17 for MO, MO1, MO2
091 091 000 075 093 000 000 000  11-5003   N/A  bushing with lip, drive shaft Ø13 Ø?? x ?? MO, MO1, M1, M101
000 000 054 000 000 000 000 000  11-5007   $18  bushing plain, clutch drum Ø18 Ø20 x 17.5 for MO2
069 000 000 000 000 047 000 000  11-5009   N/A  bushing plain, clutch drum Ø15 Ø18 x 18.5 (use 11-5010)
069 069 000 053 000 047 000 000  11-5010   N/A  bushing plain, clutch drum Ø15 Ø18 x 18.5  MO,MO1,M1,S5K2
000 000 062 000 000 000 000 000  11-5013   N/A  bushing plain, clutch hub   Ø19 Ø22 x 31.75 for MO2
000 000 061 000 000 000 000 000  11-5016   $15  inner steel tube, clutch hub Ø15 Ø19 x 32.5 for MO2
000 000 091 000 000 000 000 000  11-5017   N/A  bushing plain, first gear 59T Ø17 Ø19 x 20 for MO2
000 000 000 000 000 000 000 000  11-5028   N/A  bushing
000 000 000 097 000 000 000 000  11-8007   N/A  ignition (spark) coil Dansi H79, Bosch H79A or Dansi H79B 
000MO1 000 M1 000 S5K2 00  S5T
 MO000 MO2 00 M101000 S5R 000   Morini#  price   description   "assy" or "as." means air filter, air box, clamp
111 000 000 000 000 000 000 000  12-0008   N/A  carb+thin assy SHA14/12 #50 fits 16 MO (use 12-0012)
111 111 118 000 000 080 000 000  12-0012   N/A  carb+thin assy SHA14/12 #50 fits 16 MO1,2,S5K,K2(A=2.2hp)
000 000 000 000 000 000 000 000  12-0012a $80  carburetor xxx SHA14/12 #50 fits 16mm intake 
000 000 086 000 000 000 000 000  12-0025   $85  gear #1 (driven) with ratchet ring & bushing 59T for MO2
111 111 118 000 000 080 000 000  12-0061   N/A  carb+thin assy SHA14/9, #43 fits 16 MO1,2,S5K,K2(B=1.4hp)
000 000 000 000 000 000 000 000  12-0068   N/A  carburetor+as. SHB19/19D #? fits 24? intake for S5R
000 000 000 000 042 000 000 000  12-0106   N/A  variator housing-drum for M101
000 000 000 026 021 000 000 000  12-0108   N/A  carb+thick as.  SHA14/12 #52 fits 18 for M1, M101, S5T
000 000 000 000 000 000 000 000  12-0108a $80  carburetor xxx SHA14/12 #52 fits 18mm intake 
000 000 000 000 000 015 000 000  12-2007   N/A  cylinder & piston  cast iron  rounded   38.0 S5K,K2 (A=2.2hp)
000 000 000 000 000 015 000 000  12-2018   N/A  cylinder & piston  cast iron  rounded   38.0 S5K,K2 (B=1.4hp)
000 004 004 000 000 000 000 000  12-2038 $200-$170 cyl-piston aluminum 1977-type 40.4 for MO1, MO2
000 004 004 000 000 000 000 000  12-2050   N/A  cylinder & piston  cast iron 1975-type 40.4 for MO1, MO2
000 004 004 000 000 000 000 000  12-20xx  $180 cylinder & piston  cast iron 1975-type 40.4 MO1,MO2(1.0hp)
000 000 000 000 000 000 069 000  12-2052   N/A  cylinder & piston aluminum  big  fins   39.0 for S5R
000 000 000 007 006 000 000 000  12-2061 $200-$170 cyl-piston aluminum case-reed  40.4 for M1, M101
000 000 000 007 006 000 000 000  12-2062   N/A  cylinder & piston  cast iron  case-reed 40.4 for M1, M101
000 000 000 000 000 000 000 092  12-2068   N/A  cylinder & piston aluminum reed-type 39.0 for S5T
000 000 000 000 000 000 000 069  12-2076   N/A  cylinder & piston alumin.  square fins  39.0 for S5N
000 000 000 000 000 000 069 000  12-2099   N/A  cylinder & piston cast iron square fins 39.0 for S5E
000 000 003 000 000 000 000 000  12-4034   $60  cover, clutch for MO2
000 000 000 000 000 000 000 000  12-4044   N/A  cover, magneto for MO4
000 000 000 000 000 009 000 000  12-4049   N/A  cover, clutch for early S5K2 (use 12-4054)
000 000 000 000 000 009 000 000  12-4054   N/A  cover, clutch for late S5K2
000 006 006 000 000 000 000 000  12-4074   $25  cover, magneto (flywheel), plain for MO1, MO2
006 000 000 000 000 000 000 000  12-4074G N/A  cover, magneto (flywheel), says Gyromat for MO
000 006 000 000 000 000 000 000  12-4074L $35  cover, magneto (flywheel), late Gyromat for  MO1
006 000 000 000 000 000 000 000  12-4074M N/A  cover, magneto (flywheel), says Malaguti for MO
000 003 000 000 000 000 000 000  12-4075   N/A  cover, clutch w/ cable stop, plain for MO1
003 000 000 000 000 000 000 000  12-4075G N/A  cover, clutch w/ cable stop, says Gyromat for MO
000 003 000 000 000 000 000 000  12-4075L N/A  cover, clutch w/ cable stop, late Gyromat for MO1
003 000 000 000 000 000 000 000  12-4075M N/A  cover, clutch, no cable stop Malaguti Gyromat for MO
000 000 000 006 000 000 000 000  12-4083   N/A  cover, magneto (flywheel) for M1, M1K
000 000 000 004 000 000 000 000  12-4084   N/A  cover, clutch w/cable stop for M1
000 000 000 000 004 000 000 000  12-4088   N/A  cover, clutch  (variator)    for M101
000 000 000 000 005 000 000 000  12-4089   N/A  cover, magneto (flywheel) for M101
000 000 000 000 000 000 000 009  12-4112   N/A  cover, clutch, black for S5T
000 000 000 000 000 000 000 000  12-4260   N/A  cover, magneto for late 1990's S6
056 056 045 037 032 037 037 037  12-6001    $8  ball bearing, crankshaft #6203 17 x 40 x 12
089 089 102 076 061 063 063 063  12-6002    $8  ball bearing, drive shaft #6202 15 x 35 x 11
000 000 096 000 000 000 000 000  12-6003    $7  ball bearing, prim. shaft #6201   12 x 32 x 10 for MO2
000 000 046 000 000 000 000 000  12-6007  $12  ball bearing, right crank #6204 20 x 47 x 14 for MO2
095 095 107 000 000 000 000 000  12-7002 M-96 key, sprocket 3.0 x 4.7 x 12.3 chamfered M-96 MO, MO1, MO2
000 000 090 000 000 000 000 000  12-7002 cont.  key, primary shaft same key as Vespa (Piaggio) for MO2
000 000 000 000 000 011 000 000  12-7004   N/A  cover, magneto (round) for S5K2 111-114mm ID
000 000 056 000 000 000 000 000  12-7012  $20  clutch #1 shoe (each)  3-45° grooves for MO2
000 000 064 000 000 000 000 000  12-7014  $20  clutch #2 shoe (each)  2-90° grooves for MO2
106 106 114 107 000 000 000 000  12-7016  $12  pedal chain #35 x 32 link, no master for MO, MO1, MO2, M1
109 109 117 092 000 000 000 000  12-7017    $2  pedal crank wedge pin Ø9 use H-134
064 064 000 057 000 043 043 043  12-7020  $30  clutch shoe (ea) tire tread surface for MO, MO1, M1, S5K2
066 066 058 058 000 045 045 045  12-7021  $10  clutch shoe link #520 chain master 5/8″ x 2/8″
070 070 000 064 000 000 000 000  12-7022  $35  clutch starting plate 20.8 deep for MO, MO1, M1
058 058 049 040 035 039 039 039  12-7025    $2  woodruff key, flywheel 2.5 x 3 x 9 use M-83
000 000 000 098 000 000 000 000  12-7026    $3  spark plug Bosch W7D = NGK BP5ES for M1
118 118 123 000 000 000 000 000  12-7027    $3  spark plug Bosch W8D = NGK BP6ES for MO, MO1, MO2
000 000 089 000 000 000 000 000  12-7029  $45  gear #2 (driven) 52T x 10.0 for MO2 (new but rusty)
000 000 078 000 000 000 000 000  12-7061  N/A  start cable inner 1-ended original Ø1.6 x 50″ for MO2
000 000 078 000 000 000 000 000  12-7061S  $5  start cable inner 1-ended thinner substitute Ø1.2 x 50″
000 000 078 000 000 000 000 000  12-7061S  $5  this requires a special pinch bolt in the hand lever
000 000 000 000 000 075 000 000  12-7074    $3  spark plug Bosch W7A = NGK B6HS for S5K2
000 000 000 000 118 000 000 000  12-7075    $3  spark plug Bosch W7D = NGK BP6ES for M101
000 000 000 000 000 000 092 000  12-7118   N/A  head nut M6 tall for S5R
000 000 000 000 043 000 000 000  12-7140   N/A  variator roller housing, inner =Vespa? for M101
000 000 000 000 085 000 000 000  12-7141   N/A  clutch drum for M101
000 000 000 000 108 000 000 000  12-7142   N/A  pedal chain #35 x ?? link, no master  for M101
000 000 000 000 038 000 000 000  12-7144   N/A  drive belt AX15 for M101 see VBeltSupply.com
000 000 000 000 095 000 000 000  12-7145    $2  cotter pin, engage lever for M101
000 000 000 000 043 000 000 000  12-7151   N/A  variator roller housing, outer =Vespa? for M101 
000 000 000 000 000 000 000 019  12-7158   N/A  cylinder stud for S5T
000MO1 000 M1 000 S5K2 00  S5T
 MO000 MO2 00 M101000 S5R 000   Morini#  price   description
000 000 065 000 000 000 000 000  13-0001  $45  starting clutch plate for MO2
000 000 000 000 121 000 000 000  13-0003   N/A  decompression valve for M101
016 016 016 017 015 020 000 000  13-1001  50¢  nut, cylinder head M6 – 1.00 x 6 hex10
094 094 106 081 088 067 000 000  13-1002  $10  nut, sprocket xx  M12 – 1.25 x 6 hex17
072 072 125 041 000 000 000 000  13-1003  $10  nut, clutch xxxx  M10 – 1.25 x 6 hex17
082 082 000 077 000 000 000 000  13-1003  cont. nut, prim. shaft 
012 012 012 000 000 000 000 000  13-1004  50¢  nut, intake stud    M5 – 0.80 x 5 hex8
000 000 000 000 087 000 000 000  13-1006  50¢  nut, pulley rear   M8? – 1.25 x 6? hex13? =Vespa? M101
059 059 050 039 034 040 000 000  13-3007  $10  nut, flywheel  xx  M8 – 1.25 × 16 hex15
000 000 092 000 000 000 000 000  13-3017  $12  nut, prim. shaft   M14 – 1.25 x 8  hex19 for MO2
014 014 014 020 018 000 000 000  13-3023    $2  nut, tall exhaust   M5 – 0.80 x 25 hex8
000 000 000 000 063 000 000 000  13-3026  50¢  nut, pulley rear   M24-0.80 x 5 hex32 = Vespa for M101
000 000 000 000 037 000 000 000  13-3027  50¢  nut, clutch front   M8 – 1.25 x 7 hex24 = Vespa for M101
000 000 068 000 000 000 000 000  13-5015  $10  plate, starter, 3 Ø10 studs for no bushings for early MO2
000 000 68b 000 000 000 000 000  13-5015b $15  plate, starter, 3 Ø8 studs for bushings 16-3026 late MO2
000 000 000 061 000 000 000 000  13-5031    $9  cover plate, clutch back (not on MO1) for M1
000 000 000 000 076 000 000 000  13-5034   N/A  housing, main clutch = Vespa? for M101
000 000 000 000 047 000 000 000  13-5035   N/A  disc, variable drive    = Vespa?  for M101
000 000 000 000 069 000 000 000  13-5037   N/A  disc, clutch xxxxxx   = Vespa? for M101
026 026 026 000 000 000 000 000  13-6004    $7  spacer-insulator, intake Ø5-36 19×10 for MO, MO1,MO2
000 000 088 000 000 000 000 000  13-6012    $8  spacer, 1st/2nd gear Ø15 Ø24 x 11 for MO2
000 000 079 000 000 000 000 000  13-6036    $7  cable stop-guide, starter M10-1.25 for MO2
000 000 000 000 112 000 000 000  13-6043   N/A  spacer, pedal shaft for M101
000 000 000 000 041 000 000 000  13-6044   N/A  sleeve, variable speed for M101
000 000 000 000 000 000 000 000  13-6046   N/A  sleeve, engage shaft for M101
000 000 000 000 039 000 000 000  13-6047   N/A  spacer, variable speed for M101

000MO1 000 M1 000 S5K2 00  S5T
MO000 MO2 00 M101000 S5R 000   Morini#  price   description
000 000 000 000 000 000 000 000  14-0500   N/A  1980 Morini Franco Motori tool kit
000 000 000 000 000 000 000 000  14-0501 tools  flywheel puller M19-1,M22-1.5(in kit)
000 000 000 000 000 000 000 000  14-0503   N/A  puller for ? xxxxxxxxxxxxxx   (in kit)
000 000 000 000 000 000 000 000  14-0506   $15  clutch & flywheel holder, adj. (in kit)
000 000 000 000 000 000 000 000  14-0507   $15  sprocket holder xxxxxxxxxx  (in kit)
000 000 000 000 000 000 000 000  14-0508 tools  clutch & gear puller, 2-bolt adj(in kit)
000 000 000 000 000 000 000 000  14-0509   N/A  manual-clutch holder xxxxxx (in kit)
000 000 000 000 000 000 000 000  14-0510   N/A  manual-clutch hub holder xx (in kit)
000 000 000 000 000 000 000 000  14-0511   N/A  case splitter xxxxxxxxxxxx  (not in kit)
000 000 000 000 000 000 000 000  14-0513   N/A  variator disc assembly press(not in kit)
000 000 000 000 000 000 000 000  14-0514   N/A  variator disassembly disc.   (not in kit)
000MO1 000 M1 000 S5K2 00  S5T
 MO000 MO2 00 M101000 S5R 000   Morini#  price   description
000 000 000 027 000 000 000 000  15-0030a Del37 carb air cover, large thick #8602-85 for front facing & S5T
000 000 000 000 000 000 000 000  15-0030a Del36 carb air cover, small thin #7758-85 for right facing & S5K2
000 000 000 000 131 000 000 000  15-0031   N/A  centrifugal clutch for M101
000 000 000 000 130 000 000 000  15-0032   N/A  pulley assembly for M101
000 000 000 000 100 000 000 000  15-4017   N/A  engage fork for M101
000MO1 000 M1 000 S5K2 00  S5T
 MO000 MO2 00 M101000 S5R 000   Morini#  price   description
000 000 063 000 000 000 000 000  16-0001   $35  gear #2 (driving) with start plate 22T for MO2
000 000 131 000 000 000 000 000  16-0002   $70  gear #2 with clutch #2, start plate 22T for MO2
000 000 070 000 000 000 000 000  16-0003   $85  starter thrust block (bearing) for MO2
000 000 070 000 000 000 000 000  16-0003a 10¢  ball 3/16″ starter thrust block for MO2
000 000 000 000 000 000 000 000  16-0513   N/A  variator disc assembly press (use 14-0513)
000 000 132 036 031 033 000 000  16-1005   $15  roller bearing open, piston Ø12-Ø15 x 15 late MO2,M1,M101,S5K2
000 000 075 000 000 000 000 000  16-1008   N/A  roller bearing inner, R crank Ø10-Ø14 x 10 = Vespa?  for MO2
000 000 000 000 075 000 000 000  16-1019   N/A  roller bearing open, variator-clutch for M101
060 060 051 100 120 000 067 067  16-3004   N/A  rubber boot, spark plug cap
000 000 000 000 000 013 000 000  16-3006   N/A  grommet, magneto int spark 2-thin 1-thick for S5K, early S5K2
115 115 121 000 000 000 000 000  16-3008    $3  grommet, magneto int spark 2-thin 1-thick for some MO, MO1,2
000 000 080 000 000 000 000 000  16-3010    $2  rubber protector, start cable for MO2
000 000 000 000 000 055 000 000  16-3012   N/A  rubber cover, kick start (use 16-3018)
000 000 000 000 000 000 000 000  16-3015   N/A  rubber block for S5K2 ??
000 000 000 000 000 013 000 000  16-3017   N/A  grommet, magneto ext spark 2-thin holes for S5K2
000 000 000 000 000 055 000 000  16-3018   N/A  rubber cover, kick start for S5K2
115 115 121 096 116 000 000 000  16-3022   N/A  grommet, magneto ext spark 3-thin holes MO,MO1,MO2,M1,M101
000 000 000 000 000 000 000 000  16-3023   N/A  grommet, magneto int? spark xxxxxx  for MO3
000 000 68b 000 000 000 000 000  16-3024   N/A  bushing, starter (use 16-3026)
000 000 68b 000 000 000 000 000  16-3026  $18  bushing set of 3, starter Ø8 x Ø10 x 8 goes on 13-5015 late MO2
000 000 000 000 000 000 000 000  16-3027   N/A  rubber, anti-vibration for S5R
000 000 000 000 000 000 055 055  16-3028   N/A  rubber, kick start for S5T
000 000 000 000 000 000 000 000  16-3032   N/A  rubber grommet for ??
000 000 000 000 000 000 000 000  16-3045   N/A  grommet, magneto int spark 3-thin 1-thick for 90's S5
000 000 000 000 000 016 000 000  16-4001   N/A  gasket, cylinder base   Ø6 40×40 for S5K2
000 000 000 000 000 023 000 000  16-4005    $3  gasket, intake flange x Ø6-33-Ø14 = Min. 4240 for S5K2
035 035 034 051 053 030 030 030  16-4008    $1  gasket, oil drain plug x ring Ø8 x 14
000 000 000 000 000 078 000 000  16-4010   N/A  gasket, exhaust ring x ring Ø28 x 34 for S5K2
000 000 000 000 000 000 023 000  16-4011   N/A  gasket, intake flange x Ø6-36?-Ø19? for S5R
000 000 000 000 000 018 000 000  16-4018    $9  gasket, cylinder head x Ø6 40×40 for S5K2
000 000 000 000 000 003 000 000  16-4021    $9  gasket, case center   xxxxxxxxxxx  for S5K2
000 000 000 000 000 000 018 018  16-4022    $7  gasket, cylinder head x Ø6 50 x 50 for S5R
000 000 000 000 000 000 078 078  16-4024   N/A  gasket, exhaust flange Ø6-42?-Ø24? for S5R
037 037 032 049 000 028 000 000  16-4026    $4  gasket, oil filler plug xx ring Ø14×19 for MO,MO1,MO2,M1,S5K2
019 019 019 008 007 000 000 000  16-4030    $9  gasket, cylinder base   Ø6 46×46 for MO, MO1, MO2, M1, M101
020 020 020 025 020 000 000 000  16-4031    $5  gasket, exhaust flange Ø5-36-Ø20 MO, MO1, MO2, M1, M101
021 021 021 010 009 000 000 000  16-4032    $9  gasket, cylinder head   Ø6 46×46 for MO, MO1, MO2, M1, M101 
022 022 022 000 000 000 000 000  16-4033    $8  gasket, case center   xxxxxxxxxxx  for MO, MO1, MO2
023 023 023 000 000 000 000 000  16-4034    $9  gasket, clutch cover  xxxxxxxxxxx  for MO, MO1, MO2
024 024 024 000 000 000 000 000  16-4035    $5  gasket, intake lower x Ø5-36 19×10 for MO, MO1,MO2
025 025 025 000 000 000 000 000  16-4036    $3  gasket, intake upper x Ø8-36 19×10 for MO, MO1,MO2
000 000 000 000 000 000 016 00016-4080   N/A  gasket, cylinder base  Ø6 50×50 for S5R
000 000 000 000 000 009 009 00016-4085  $12gasket, clutch cover  xxxxxxxxxxx  for S5K2, S5R
000 000 000 000 020 000 000 000  16-4093   N/A  gasket, exhaust flange Ø5-36-Ø20 M101 (use 16-4031)
000 000 099 000 000 000 000 000  16-4101    $2  gasket, starter cable x  ring Ø10×14 for MO2
000 000 000 030 025 000 000 000  16-4103    $6  gasket, intake upper x  Ø6-44 16×15 for M1,M101
000 000 000 003 000 000 000 000  16-4104   N/A  gasket, case center   xxxxxxxxxxx  for M1, M1K
000 000 000 005 000 000 000 000  16-4105  $12  gasket, clutch cover   xxxxxxxxxxx  for M1, M1K
000 000 000 032 027 000 000 000  16-4106    $7  gasket, intake lower x  Ø6-44 30×22 for M1,M101
000 000 000 000 003 000 000 000  16-4108   N/A  gasket, case center   xxxxxxxxxxx  for M101
000 000 000 000 009 000 000 000  16-4111   N/A  gasket, cylinder head   Ø6 46 x 46 for M101 (use 16-4032)
000 000 000 000 000 000 000 018  16-4121   N/A  gasket, cylinder head   Ø? 50 x 50 for S5T
000 000 000 000 000 000 000 016  16-4122   N/A  gasket, cylinder base   Ø? 50 x 50 for S5T
000 000 000 000 000 000 000 010  16-4135   N/A  gasket, clutch cover  xxxxxxxxxxx  for S5T
000 000 000 000 000 000 000 003  16-4136   N/A  gasket,  case center  xxxxxxxxxxx  for S5T
000 000 241 000 000 000 000 000  16-7001   N/A  roll pin, clutch cover Ø6 Ø8 x ?? for MO2
000 000 000 000 000 004 000 000  16-7004   N/A  roll pin, case center  Ø6 Ø8 x ?? for S5K2
018 018 018 033 028 000 000 000  16-7005   N/A  roll pin, case center Ø8 Ø10 x 40 =Min? MO,MO1,MO2,M1
000 000 077 000 000 000 000 000  16-7010  $12  wire hook, starter cable for MO2

000MO1 000 M1 000 S5K2 00  S5T
 MO000 MO2 00 M101000 S5R 000   Morini#  price   description
000 000 053 000 000 000 000 000  18-0001  $75  gear #1 (driving) 18Tx12.3 drum Ø84 w/bushing MO2
000 000 000 000 000 059 000 000  18-1065   N/A  crankshaft starting gear for S5K2
000 000 000 000 000 058 000 000  18-1066   N/A  starting gear (use 18-1081)
000 000 000 000 000 058 000 000  18-1081   N/A  starting gear 52 tooth? for S5K2
000 000 000 000 058 000 000 000  18-1143   N/A  main gear for M101
000 000 000 000 000 049 000 000  18-4016   N/A  (use 18-4019)
000 000 000 000 000 049 000 000  18-4019   N/A  coupling claw, starter for S5K2
000 000 000 000 059 000 000 000  18-4024   N/A  sliding clutch, engage for M101
000MO1 000 M1 000 S5K2 00  S5T
 MO000 MO2 00 M101000 S5R 000   Morini#  price   description
075 075 000 066 000 000 000 000  19-0004  $15  lever, start rear-pull Ø12 for MO, MO1, M1
000 000 000 000 000 000 000 000 19-0004M N/A  lever, start side-pull Ø12 for Malaguti MO
000 000 000 000 000 051 051 000  19-0006   N/A  lever, kick start for S5K2
000 000 000 000 000 000 000 051  19-1029   N/A  lever, kick start for S5T
000 000 000 000 094 000 000 000  19-1046   N/A  lever, engage for M101
000MO1 000 M1 000 S5K2 00  S5T
.MO000 MO200 M101 000 S5R 000   Morini#  price   description
063 063 000 056 000 000 000 000  20-0003   N/A  housing, clutch for MO, MO1, M1
000 000 060 000 000 000 000 000  20-0007  $40  clutch #1 assembly for MO2
631 631 000 055 000 000 000 000  20-0012  $40  clutch assembly for MO, MO1, M1
000 000 000 000 000 000 000 000  20-0019   N/A  clutch assembly for S5K2
000 000 000 000 000 000 000 000  20-0027   N/A  clutch assembly for S5R
101 101 110 086 107 000 000 000  20-1015   N/A  spring, coupling claw, pedal MO, MO1, MO2, M1, M101
000 000 067 000 000 000 000 000  20-1016  $15  spring, compression, starter for MO2
000 000 127 000 000 044 000 000  20-1017    $5  spring, extension, xx clutch #2 for MO2, S5K2
077 077 000 068 000 000 000 000  20-1018    $8  spring, torsion, xxxx starter lever for MO, MO1, M1
074 074 000 063 000 000 000 000  20-1019  $15  spring, compression Ø27 Ø19 x 21 starter MO,MO1,M1
077 077 000 068 000 000 000 000  20-1022   N/A  spring, torsion, xxxx starter lever (use 20-1018)
065 065 057 059 000 000 000 000  20-1033    $5  spring, extension, xx clutch #1 for MO, MO1, MO2, M1
000 000 000 000 000 000 000 000  20-1034   N/A  spring,
000 000 076 000 000 000 000 000  20-1036    $4  spring, extension, xx for MO2 starter
000 000 085 000 000 000 000 000  20-1037   N/A  spring, compression, ratchet gear Ø4 x 9 for MO2
000 000 000 000 000 050 000 000  20-1052   N/A  spring, coupling claw, starter (use 20-1072)
000 000 000 000 000 057 000 000  20-1053   N/A  spring, torsion, xxxx kickstart for S5K2
000 000 000 000 000 012 000 000  20-1061   N/A  spring clip, magneto cover for S5K2
000 000 000 000 000 000 000 000  20-1069   N/A  spring, xxxxxxx xxxx xxxx  for S5R
000 000 000 000 000 000 000 000  20-1071   N/A  spring, extension, xx clutch for S5R
000 000 000 000 000 050 000 000  20-1072   N/A  spring, coupling claw, starter for S5K2
000 000 000 000 067 000 000 000  20-1075   N/A  spring, compression, large variator for M101
000 000 000 000 070 000 000 000  20-1076   N/A  spring, extension ring, clutch for M101
000 000 000 000 082 000 000 000  20-1077   N/A  spring, plate, xxxxxxx starting clutch for M101
000 000 000 000 099 000 000 000  20-1080   N/A  spring, compression, engage lever for M101
000 000 000 000 084 000 000 000  20-1082   N/A  spring, extension, starting clutch for M101
000 000 000 000 072 000 000 000  20-1083   N/A  spring, compression, clutch shoe side pad M101
100 100 109 085 106 000 000 000  20-6001   N/A  coupling claw (collar) for MO, MO1, MO2, M1, M101
000 000 000 000 000 042 000 000  20-6002   N/A  hub, clutch for S5K2
000 000 055 000 000 000 000 000  20-6004   $10  hub, clutch #1 for MO2
000 000 000 000 083 000 000 000  20-6029   N/A  shoe, starting clutch =Vespa? for M101
000 000 000 000 071 000 000 000  20-6030   N/A  shoe, running clutch =Vespa?  for M101

000MO1 000 M1 000 S5K2 00  S5T
.MO000 MO200 M101 000 S5R 000   Morini#  price
075 075 000 066 000 000 000 000  21-0004   N/A  start lever/shaft regular (front-pull)
000 000 000 000 000 000 000 000  21-0004M N/A  start lever/shaft Malaguti (side-pull)
119 119 000 070 000 000 000 000  21-4002   N/A  cable adapter original (front-pull)
000 000 000 000 000 000 000 000  21-4002S  $5  cable adapter substitute (front-pull)
000 000 000 000 000 000 000 000  21-4004    $5  cable pinch bolt P20 (both types)
000MO1 000 M1 000 S5K2 00  S5T
.MO000 MO200 M101 000 S5R 000   Morini#  price   click Piston to see pistons offered, by size and style
000 000 000 000 000 035 000 000  23-0101 Piston piston assy    S5K2 cast iron cylinder 38.0 S5K2
000 000 000 000 000 035 000 000  23-0102   N/A  piston assy    S5K2 cast iron cylinder 38.2 oversize
052 000 000 000 000 000 000 000  23-01xx Piston piston assy for iron cylinder non-reed 40.0 early MO
000 052 043 000 000 000 000 000  23-0125 Piston piston assy for alu. cylinder non-reed 40.4 MO1, MO2
000 052 043 000 000 000 000 000 23-0126/6 N/A  piston assy for alu. cylinder non-reed 40.6 1st oversize
000 052 043 000 000 000 000 000 23-0126/8 N/A  piston assy for alu. cylinder non-reed 40.8 2nd oversize
000 052 043 000 000 000 000 000 23-0126/0 N/A  piston assy for alu. cylinder non-reed 41.0 3rd oversize
000 052 043 000 000 000 000 000  23-0130 Piston piston assy for iron cylinder non-reed 40.4 MO1, MO2
000 052 043 000 000 000 000 000 23-0131/6 N/A  piston assy for iron cylinder non-reed 40.6 1st oversize
000 052 043 000 000 000 000 000 23-0131/8 N/A  piston assy for iron cylinder non-reed 40.8 2nd oversize
000 000 000 000 000 000 035 035  23-0133 Piston piston assy for iron or alum non-reed 39.0 S5R, S5T
000 000 000 044 048 000 000 000  23-0134   N/A  piston assy for alu. cylinder reed type 40.4 M1, M101
000 000 000 044 048 000 000 000 23-0135/6 N/A  piston assy for alu. cylinder reed type 40.6 1st oversize
000 000 000 044 048 000 000 000 23-0135/8 N/A  piston assy for alu. cylinder reed type 40.8 2nd oversize
000 000 000 044 048 000 000 000  23-0136 Piston piston assy for iron cylinder reed type 40.4 M1, M101
000 000 000 044 048 000 000 000 23-0137/6 N/A  piston assy for iron cylinder reed type 40.6 1st oversize
000 000 000 044 048 000 000 000 23-0137/8 N/A  piston assy for iron cylinder reed type 40.8 2nd oversize
000 000 000 044 048 000 000 000 23-0137/0 N/A  piston assy for iron cylinder reed type 41.0 3rd oversize
000 000 000 000 000 000 000 000 23-0186/A N/A  piston assy 38.95 for all-alum. cylind. 39.0 S6E
000 000 072 000 000 000 000 000  23-1027   N/A  spiral pawl, starter for MO2
000 000 000 000 000 052 000 000  23-1039   N/A  kickstart lever retaining pin for S5K2
000 000 000 000 024 000 000 000  23-1051   N/A  intake manifold, center-type Ø9 x Ø18 for M1, M101 (1.0hp)
000 000 105 000 000 000 000 000  23-2501  $15  drive sprocket 13T tapered, keyed for MO, MO1, MO2
093 093 000 000 000 000 000 000  23-2506  $15  drive sprocket 12T tapered, keyed for MO, MO1, MO2
099 099 108 000 000 000 000 000  23-2507   N/A  pedal sprocket 19T for MO, MO1, MO2
000 000 000 000 000 065 065 000  23-2508  $15  drive sprocket 11T flat-sided thin for S5K2, S5R
000 000 000 080 000 000 000 000  23-2534   N/A  drive sprocket 13T flat-sided thick for M1
000 000 000 084 000 000 000 000  23-2543   N/A  pedal sprocket 17T for M1
000 000 000 000 105 000 000 000  23-2547   N/A  pedal sprocket ??T for M101
000 000 000 000 090 000 000 000  23-2550  $15  drive sprocket 10T flat-sided thick for M101
000 000 000 000 000 000 000 000  23-2551  $15  drive sprocket 11T flat-sided thick for ?? fits M101
000 000 000 000 000 000 000 000  23-2561  $15  drive sprocket 13T flat-sided thick for ?? fits M101
000 000 000 000 000 000 000 000  23-2580  $15  drive sprocket 14T splined for S6?
015 015 015 016 013 019 000 000  23-5001    $4  stud, cylinder M6 x 108 class 8.8 to hold up t0 8 ft-lbs
015 015 015 016 013 019 000 000  23-5002  N/A  (use 23-5001) class 10.9 to hold up to torque of 11 ft-lbs
011 011 011 000 000 000 000 000  23-5003    $7  stud, intake   M5 x 50 for MO, MO1, MO2
000 000 000 000 000 000 000 000  23-5004  N/A  stud, cylinder M? x ??? for 6-speed
013 013 013 019 016 000 000 000  23-5014    $3  stud, exhaust M5 x 30 for MO, MO1, MO2, M1
000 000 000 022 019 000 000 000  23-5021    $3  stud, intake   M6 x 30  for M1, M101
061 061 052 000 119 000 000 000  23-7001    $5  spark plug cap (use H-82)
107 107 115 091 000 000 000 000 23-7002D 434R pedal crank, right "D" 4¾ x 1¼" MO,MO1,MO2,M1,M101
108 108 116 091 000 000 000 000 23-7002S 434L pedal crank,  left  "S"  4¾ x 1¼" MO,MO1,MO2,M1,M101
000 000 000 000 000 014 000 000  23-7006  N/A  plate, sprocket guard for S5K2
000 000 000 099 000 076 000 000  23-7020    $5  spark plug cap (use 23-7001)
000 000 073 000 000 000 000 000  23-7026  N/A  plate, starter spiral anchor, 3-hole for MO2
000 000 000 000 000 000 000 000  23-7029  N/A  disc, rubber
000 000 000 000 073 000 000 000  23-7053  N/A  thrust pad, clutch for M101
000 000 000 000 000 000 000 015  23-7056  N/A  plate, sprocket guard for S5T, S5N
000MO1 000 M1 000 S5K2 00  S5T
 MO000 MO2 00 M101000 S5R 000   Morini#  price   description
083 083 000 000 000 000 000 000  25-0001  $45  gear primary (driven) 52T x 14.2 (new but rusty)
000 000 000 000 000 022 000 000  25-1001   N/A  intake manifold, short-type Ø12 x Ø16 for S5K2
027 027 027 000 000 000 000 000  25-1005   $35  intake manifold, right-type Ø13 x Ø16 for MO, MO1,MO2
027 027 027 000 000 000 000 000  25-1014   $25  intake manifold, right-type Ø12 x Ø16 MO, MO1,2 (1.5hp)
000 000 000 000 000 000 000 000  25-1027   N/A  intake manifold, short-type Ø18 x Ø24? for S5R
000 000 000 000 000 000 000 000  25-1038   N/A  intake manifold, short-type   Ø9 x Ø24? for S5R (1.5?hp)
027 027 027 000 000 000 000 000  25-1048   N/A  intake manifold, right-type   Ø9 x Ø16 MO, MO1,2 (1.0hp)
000 000 000 028 023 000 000 000  25-1050   $35  intake manifold, right-type Ø14 x Ø18 for M1, M101
000 000 000 029 024 000 000 000  25-1051   $32  intake manifold, front-type Ø14 x Ø18 for M1, M101
000 000 000 000 000 000 000 000  25-1052   $35  intake manifold, front-type Ø12 x Ø16 MO1,MO2 Sebring
000 000 000 028 023 000 000 000  25-1055   N/A  intake manifold, front-type   Ø9 x Ø18 M1, M101 (1.0hp)
000 000 000 000 000 000 000 022  25-1059   N/A  intake manifold, short-type Ø14 x Ø18 for S5T
017 017 017 018 014 021 021 000  25-4001  25¢  washer, plain   Ø6 Ø13 x 1.5 for head
000 000 000 024 000 000 000 000  25-4001  cont.       (here "shim" means "thin plain")
000 000 000 082 089 066 000 000  25-4002   N/A  washer, plain  Ø12 Ø20?x1.0? for M1, M101, S5K2
079 079 100 054 000 068 000 000  25-4005    $3  washer, shim   Ø15 Ø22 x 0.6  clutch drum MO, MO1, MO2, M1
080 080 000 043 000 000 000 000  25-4005  cont. washer, shim   Ø15 Ø22 x 0.6  behind drum MO, MO1, M1
087 087 000 073 000 000 000 000  25-4005  cont. washer, shim   Ø15 Ø22 x 0.6  prim. shaft MO, MO1, M1
103 103 112 089 110 071 000 000  25-4007   N/A  washer, plain  Ø16 Ø26?x1.5? pedal shaft
000 000 000 000 000 000 000 000  25-4008   N/A  washer, plain    Ø3  Ø6? x1.0? for??
000 000 000 000 000 000 000 000  25-4010   N/A  washer, plain? Ø??  Ø?? x ???  for ??
028 028 028 000 000 000 000 000  25-4012  25¢  washer, plain    Ø5  Ø9  x 1.0  for MO, MO1, MO2
029 029 029 021 017 000 000 000  25-4013  25¢  washer, spring  Ø5  Ø8  x 1.5  for MO, MO1, MO2, M1, M101
000 000 000 000 000 026 000 000  25-4017  25¢  washer, spring  Ø6 Ø12 x 1.5  for S5K2
073 073 126 042 000 069 000 000  25-4018   $5  washer, plain  Ø10 Ø21 x 1.8 clutch MO,MO1,MO2,M1,S5K2
000 000 000 078 000 000 000 000  25-4018  cont. washer, plain  Ø10 Ø21 x 1.8 prim. shaft M1
073 073 126 042 000 069 000 000  25-4018s $2  substitute xxxx Ø10 Ø22 x 1.6 MO, MO1, MO2, M1, S5K2
000 000 000 000 086 054 000 000  25-4023   N/A  washer, plain for kick stop peg for S5K2
000 000 095 000 000 000 000 000  25-4026   N/A  washer, shim  Ø12 Ø18?x0.2? for MO2
000 000 069 000 000 000 000 000  25-4028  $19  washer, large  Ø28 Ø56 x 1.0  for MO2 starter
000 000 098 000 000 000 000 000  25-4030    $5  washer, 3-tab  Ø15 Ø30 x 0.6  for MO2
000 000 093 000 000 000 000 000  25-4031    $2  washer, plain  Ø14 Ø26 x 1.5  for MO2
000 000 000 000 000 061 000 000  25-4034   N/A  washer, plain  Ø??  Ø?? x ???  (use 25-4055)
000 000 000 000 098 000 000 000  25-4038   N/A  washer, plain Ø6  Ø9? x 1.0?  for M101 engage rod
088 088 101 074 000 000 000 000  25-4040    $7  washer, shim   Ø13 Ø18 x 0.2  for MO, MO1, MO2, M1
000 000 128 000 000 000 000 000  25-4041   N/A  washer, plain  Ø17  Ø26 x 1.1  for MO2
000 000 128 000 000 000 000 000  25-4041s $2  substitute xxx  Ø17  Ø24 x 1.0  for MO2
000 000 084 000 000 000 000 000  25-4043  $10  washer, plain  Ø22  Ø28 x 1.6  for MO2
000 000 084 000 000 000 000 000  25-4043  cont. actually 2 or 3 thinner shims with same total thickness
000 000 000 000 092 000 000 000  25-4047   N/A  washer, plain  Ø15  Ø?? x ???  for M101 drive shaft
000 000 000 000 000 061 000 000  25-4055   N/A  washer, plain  Ø10?Ø?? x ???  for S5K2 drive shaft
000 000 000 095 115 000 000 000  25-4070   50¢  washer, star   Ø4   Ø8  xxxxx  for M1, M101 stator
000 000 000 000 096 000 000 000  25-4072   N/A  washer, plain   Ø6  Ø12?x1.0? for M101 engage rod
000 000 000 000 077 000 000 000  25-4073   N/A  washer w/slot Ø10?Ø24×0.6? for M101 main shaft
000 000 000 000 078 000 000 000  25-4074   N/A  washer, plain  Ø20?Ø24×1.0? for M101 main shaft
000 000 000 000 036 000 000 000  25-4075   N/A  washer, plain   Ø8  Ø24 x1.0? for M101 variator
000 000 000 000 064 000 000 000  25-4076   N/A  washer, shim   Ø24 Ø36×0.6? for M101 rear pulley
000 000 000 000 045 000 000 000  25-4077   N/A  washer, plain  Ø??  Ø?? x ???  for M101 variator roller
000 000 000 000 000 000 000 000  25-4078   N/A  washer, plain  Ø??  Ø?? x ???  for M101
000 000 000 000 000 000 000 000  25-4079   N/A  washer, plain  Ø??  Ø?? x ???  for M101
067 067 059 060 000 046 046 046  25-7002   $3  clutch shoe pin Ø3 x 14 subsitute
000 000 000 000 046 000 000 000  25-7035   N/A  roller (without end caps) =Vespa? for M101 variator
000MO1 000 M1 000 S5K2 00  S5T
.MO000 MO2 00 M101000 S5R 000   Morini#  price   
000 000 000 000 000 000 000 000  26-0505   $25  seal set 2-17x35x8, 2-16x24x5, 15x24x5 for MO, MO1, M1
000 000 000 000 000 000 000 000  26-0506   $18  seal set 2-17x35x8, 15x24x5 for S5K, S5K2, S5R, S5T
000 000 000 000 000 000 000 000  26-0508   $25  seal set 17x35x8, 20x35x8, 2 – 16x24x5, 15x24x5 MO2
000 000 000 000 000 000 000 000  26-0514   N/A   seal set 2-17×35,2-16×24,15×24,19×24,13×19,6×15 M101
000 000 000 000 000 000 000 000  26-0606   $35  gasket set original for MO, MO1, MO2
000 000 000 000 000 000 000 000  26-0606a $28  gasket set (Athena) for MO, MO1, MO2
000 000 000 000 000 000 000 000  26-0608   N/A   gasket set for S5K2
000 000 000 000 000 000 000 000  26-0611   $35  gasket set for M1
000 000 000 000 000 000 000 000  26-0612   N/A   gasket set for M101
000 000 000 000 000 000 000 000  26-0613   N/A   gasket set for S5R, S5T
000 000 000 000 000 036 000 000  26-1001 $$9.0 piston ring 38.0 x 2.0 FG standard for S5K,K2, 2M,3M,F48
000 000 000 000 000 036 000 000  26-1002 $16.0 piston ring 38.2 x 2.0 FG oversize for S5K,K2, 2M,3M,F48
000 000 000 000 000 000 036 036  26-1003 $11.0 piston ring 39.0 x 2 L-type standard upper S5R, S5T, S5E
000 000 000 000 000 000 000 000  26-1004   N/A   piston ring 39.4 x 2 L-type oversize for S5E (steel cyl)
000 000 000 000 000 000 000 000  26-1005   N/A   piston ring 39.4 x 1.5 FG oversize for S5E (steel cyl)
000 000 000 000 000 000 082 082  26-1044 $10.0 piston ring 39.0 x 1.5 FG standard lower S5R, S5T, S5E
000 054 044 045 049 000 000 000  26-1045 $$9.0 piston ring 40.4 x 1.5 GI standard for MO1, MO2, M1, MO4
054 054 000 000 000 000 000 000  26-1046 $10.0 piston ring 40.0 x 1.5 GI  standard for early MO, MO4
000 054 044 045 049 000 000 00026-1046/6$12.0 piston ring 40.6 x 1.5 GI 1st over for MO1, MO2, M1, MO4
000 054 044 045 049 000 000 00026-1046/8$12.0 piston ring 40.8 x 1.5 GI 2nd over for MO1, MO2, M1, MO4
000 000 000 000 000 000 000 000  26-1060 $19.0 piston ring 39.0 x 1.0 FG std. up & lo for S5N, S5GS
000 000 000 000 000 000 000 000 26-1060/4 N/A   piston ring 39.4 x 1.0 FG 1os up & lo for S5N, S5GS
000 000 000 000 000 000 000 000 26-1060/8 N/A   piston ring 39.8 x 1.0 FG 2os up & lo for S5N, S5GS
000 000 000 000 000 000 000 000  26-1110   N/A   piston ring 44.5 x 1.0 GI standard for FM65
000 000 000 000 000 001 000 000  26-5012   N/A   semi case, right for S5K2
001 001 000 000 000 000 000 000  26-5016   N/A   semi case, right for MO1
002 002 007 000 000 000 000 000  26-5017   N/A   semi case, left for MO, MO1, MO2 
000 000 001 000 000 000 000 000  26-5032   N/A   semi case, right for MO2
000 000 000 000 000 002 000 000  26-5053   N/A   semi case, left for S5K2
000 000 000 000 000 000 001 000  26-5082   N/A   semi case, right for S5R
000 000 000 000 000 000 002 000  26-5083   N/A   semi case, left for S5R
000 000 000 001 000 000 000 000  26-5086   N/A   semi case, right for M1
000 000 000 002 000 000 000 000  26-5087   N/A   semi case, left for M1
000 000 000 000 001 000 000 000  26-5095   N/A   semi case, right for M101
000 000 000 000 002 000 000 000  26-5096   N/A   semi case, left for M101
000 000 000 000 000 000 000 002  26-5139   N/A   semi case, left for S5T
000 000 000 000 000 000 000 001  26-5140   N/A   semi case, right for S5T
050 050 041 046 050 034 000 000  26-8001   $10   pin, piston Ø12 x 31.4
076 076 000 069 000 000 000 000  26-8014   N/A   pin, clutch lever for MO, MO1, M1
000 000 000 000 000 000 000 000  26-8031   N/A   bracket for 4M
000 000 124 000 000 000 000 000  26-8035   N/A   pawl, ratchet gear for MO2
000 000 000 000 000 000 000 000  26-8037   N/A   pin for ??
000 000 130 000 000 000 000 000  26-8038   N/A   pin, start clutch return spring anchor for MO2
000 000 000 000 066 000 000 000  26-8070   N/A   outer pulley half =Vespa? for M101
000 000 000 000 065 000 000 000  26-8071   N/A   inner pulley half =Vespa?  for M101
000 000 000 000 044 000 000 000  26-8072   N/A   variator roller cap =Vespa?  for M101
000 000 000 000 040 000 000 000  26-8073   N/A   inner variator pulley half =Vespa?  for M101
000MO1 000 M1 000 S5K2 00  S5T
 MO000 MO2 00 M101000 S5R 000   Morini#  price   description
068 068 000 000 000 000 000 000  27-0005   N/A  clutch drum Ø84, bushing and gear set for MO, MO1
000 000 000 000 000 000 000 000 27-0005a $50-$70 clutch drum (driving) 22T x 14.2 w/ 11-5010
000 000 031 000 000 000 000 000  27-0009  $12  dip stick filler plug M14-1.25 for MO2
000 000 000 000 000 041 000 000  27-0011   N/A  clutch drum, bushing & gear set for S5K2
000 000 000 052 000 000 000 000  27-0043   N/A  clutch drum, bushing & gear set for M1
000 000 066 000 000 000 000 000  27-1004  $12  starter clutch hub Ø28 hex28 for MO2
036 036 000 048 054 027 000 000  27-3007    $6  oil filler/check plug M14-1.25 for MO,MO1,M1,M101,S5K2
000 000 000 000 000 017 000 000  27-5006   N/A  cylinder head 40 x 40 for S5K2
000 000 000 000 000 000 017 000  27-5018   N/A  cylinder head 50 x 50 for S5R
005 005 005 009 000 000 000 000  27-5019   $35  cylinder head 46 x 46 for MO, MO1, MO2, M1
000 000 000 000 008 000 000 000  27-5027   N/A  cylinder head 46 x 46 for M101
000 000 000 000 000 000 000 017  27-5031   N/A  cylinder head 50 x 50 for S5T
000 000 000 000 000 000 000 000  27-7047   N/A  spacer for M101 ??
000MO1 000 M1 000 S5K2 00  S5T
 MO000 MO2 00 M101000 S5R 000   Morini#  price   description
000 000 000 000 000 073 000 000  29-0006   N/A  magneto Dansi MDL111 ig gnd int  S5K, early S5K2
000 000 000 000 000 073 000 000  29-0026   N/A  magneto Bosch 0212-005-021 ign gnd int  for S5K2
113 113 113 000 000 000 000 000  29-0034 Dansi magneto Dansi 101286 ign gnd int  for MO, MO1, MO2
113 113 113 093 000 000 000 000  29-0045 Dansi magneto Dansi 101765 ign gnd ext MO, MO1, MO2, M1
000 000 000 093 113 000 000 000 29-0045/BBoschmagneto Bosch 0212-010-003  ext for M1, early M101
000 000 000 093 113 000 000 000  29-0053   CEV  magneto CEV 6420 xxx ign gnd extfor M101, late M1
000 000 000 000 000 000 000 000  29-0063   N/A  magneto Dansi 102362 ign gnd int  for ??
000 000 000 031 026 000 000 096  29-0501   N/A  reed valve for M1, M101, S5T
000 000 000 000 132 000 000 000  29-0502   N/A  variator front assy looks like Vespa Bravo for M101
007 007 000 000 000 000 000 000  29-1165 $0.70 bolt M6 x 25  slot head clutch cover for MO, early MO1
008 008 007 000 000 000 000 000  29-1168 $1.00 bolt M6 x 35  slot head case lo-rr for MO, early MO1,MO2
009 009 008 000 000 000 000 000  29-1169 $1.00 bolt M6 x 40  slot head case up-fr for MO, early MO1,MO2
010 010 009 000 000 000 000 000  29-1171 $1.00 bolt M6 x 45  slot head cl. cover MO, MO1, rear early MO2
000 000 010 000 000 000 000 000  29-1173 $0.80 bolt M6 x 65  slot head clutch cover    front for early MO2
000 000 000 050 000 000 000 000  29-1182 $1.50 bolt M8 x 10  slot head drain plug (side-facing) for M1
000 007 000 011 000 000 000 000  29-1986 $0.80 bolt M6 x 25 allen black clutch cover for MO1, M1
000 000 000 013 010 000 000 000  29-1987 $1.00 bolt M6 x 30 allen black magneto cover lower for M1, M101
000 008 007 012 000 000 000 000  29-1988 $0.60 bolt M6 x 35 allen black clutch cover MO1, MO2, M1
000 008 007 012 012 000 000 000  29-1988  cont.  bolt M6 x 35 allen black case for MO1 ,MO2, M1, M101
000 009 008 000 000 005 000 000  29-1989 $1.20 bolt M6 x 40 allen head case for MO1, MO2, S5K2
000 010 000 014 000 000 000 000  29-1990 $1.20 bolt M6 x 45 allen black clutch cover front M1, up-front MO1
000 000 009 000 011 006 000 000  29-1990  cont.  bolt M6 x 45 allen black clutch cover S5K2, M101, up-rear MO2
000 010 009 000 011 000 000 000  29-1990  cont.  bolt M6 x 45 allen black magneto cover MO1, MO2, M101
000 000 000 014 000 006 000 000  29-1990  cont.  bolt M6 x 45 allen black case for M1, S5K2
000 010 9/1 000 000 000 000 000  29-1991 $1.40 bolt M6 x 50 allen black clutch cover lo-front MO1, lo-rear MO2
000 000 000 015 000 007 000 000  29-1991  cont.  bolt M6 x 50 allen black magneto cover M1, clutch cover S5K2
000 000 000 000 000 008 000 000  29-1992 $0.80 bolt M6 x 55 allen black case for S5K2
000 000 000 000 000 008 000 000  29-1993 --N/A- bolt M6 x 60 allen black case for S5K2
000 000 010 000 000 000 000 000  29-1994 --N/A- bolt M6 x 65 allen black clutch cover lower-front for MO2
000 000 10/1000 000 000 000 000  29-1995 $1.20 bolt M6 x 70 allen black clutch cover upper-front for MO2
000 000 000 000 000 000 000 000  29-4069 $0.60 bolt M5 x 35 hex head   for ??
000 000 000 000 000 025 000 000  29-4086 $0.50 bolt M6 x 16 hex head   for intake manifold on S5K2
000 000 000 000 000 025 000 000  29-4088 $0.50 bolt M6 x 16 hex head   (use 29-4086)
000 000 000 000 000 056 000 000  29-4113 $0.60 bolt M8 x 25 hex head   (use 29-4115)
000 000 000 000 000 056 000 000  29-4115 $0.60 bolt M8 x 25 hex head   kick lever clamp for S5K2
034 034 033 000 052 029 000 000  29-4132 $0.80 bolt M8 x 10 hex head   drain plug MO, MO1, MO2, M101, S5K2
114 000 000 000 000 000 000 000  29-6021 $1.00 bolt M4 x 12 phillips pan   stator (use 29-6022)
114 114 120 094 114 074 000 000  29-6022 $0.70 bolt M4 x 12 phillips wide stator MO, MO1, MO2, M1, M101, S5K2
000 000 074 000 000 000 000 000  29-6025 $2.00 bolt M5 x 5 phillips sunk starter for MO2