Welcome
The model names "Salzburg" and "Baron" were not on the bikes anywhere. Instead all three models were labeled as "Deluxe". So only Foxi owners that had this brochure called their bikes Deluxe, Salzburg, or Baron. Every one else called their bike Foxi Deluxe, because that is what it says. So in a way, there are three kinds of Foxi Deluxe: Foxi Deluxe, Foxi Deluxe (Salzburg), Foxi Deluxe (Baron).  
---
KTM Foxi Parts
The KTM mopeds are made in Austria. KTM is similar to it's Austrian cousin, Puch. The KTM frame is made for a Puch engine, but has an adaptor bracket for a Sachs 504 engine. The frame looks like a Puch Maxi. 
The following parts are the same on a KTM Foxi and a Sparta Foxi: Sachs 504 engine, CEV headlight, Magura levers, CEV switches, and possibly the CEV horn.
The following parts are different:
the KTM frame (with lifting handle), fork, and frame, straight not curvy like Sparta,
the CEV magneto 80mm 3-wire with an external ignition ground (blue wire), not Bosch 4-wire with internal ignition ground.
the 17″ rims with Grimeca hubs and brakes, not 16″ rims with Leleu. The rear brake plate is specific to KTM and Hercules and is rare because it gets bent.
 the brake light wiring, normally closed switches in series, not normally open switches in parallel. See Service/Electrical/Wiring
Diagrams/
KTM Foxi 
for more info.  
KTM FOXI "UNIVERSAL" ITEMS:   
click on these links or choose these menu items:
Sachs Bing Carburetor parts 
are in Parts/By Type/
Carburetor
  <scroll down past Dellorto and Bing Puch
Sachs 504 Engine parts 
are in Parts/By Brand/Sachs/
Sachs Engine
Magura Controls and Levers
 are in Parts/By Type/
Controls & Bars 
 <past bars, grips but before Domino
CEV Electrical, 
switches, bulbs are in Parts/By Type/
Electrical
 < switches first, then bulbs, complete headlights
Grimeca Hubs
, axles, brakes, spokes are in Parts/By Type/
Wheel Parts
  < axles & nuts first, spokes are last
Tires and Tubes, 
size 17 x 2.25 are in Parts/By Type/
Tires & Tubes
CEV Ignition
, spark plugs, coils are in Parts/By Type/
Ignition
  < except magneto flywheels and stators are here
Gas Valve
 M16x1 side, 
Gas Cap
 30 press: Parts/By Type/
Gas Tank Parts
CEV Speedometer, 
cable, driver are in Parts/By Type/
Speedometer
Pedals, Arms, Chains
, adjusters are in Parts/By Type/
Drivetrain Parts
  < pedal arms are straight R & L 6.5″  
KTM Cover Parts:

KTM Side Covers: The KTM light grey chain gaurds, aka engine covers, are two pieces on each side. The back pieces are fixed to the swing arm. The front pieces, aka "side covers", detach by quarter-turn plastic fasteners. They say "De Luxe" within the black horizontal stripe. They are what gets lost and are not available, sorry. However, Myrons has most of the screws and fasteners, and the rear chain gaurd pieces. Myrons sells Puch Maxi side cover sets, used for $40 and new repros for $55. They don't fit KTM that well though. All the vintage moped covers are scarce, except for Puch.  
KTM Frame Parts:
KTM Gas Valve: The sideways gas valve is 16mm, not 12mm like Puch. Must buy an adapter for $25 plus a $20 Puch valve. Total $45
KTM Gas Cap: 30mm push-in, see gas caps.
KTM Speedometer: CEV 40mph, 60mm diameter, dark blue background with white numbers, CEV speedo driver type is "11mm Left 17", Speedometer cable is "CEV" type, see speedos

Some frame rails, shocks, luggage racks, forks, fenders, are available but not listed here, yet. 
KTM Magnetos:
Some will be added soon …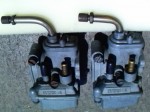 KTM Cables:
KTM Front Brake Cable double ended clevis type
KTM Rear Brake Cable double ended clevis type
KTM Throttle Cable double ended, longer wire than Sparta, for long carb elbow original on KTM.
KTM Choke Cable: a univ throttle cable with pinch bolt  $14  wire only $6 (same as Sparta)
KTM Start Cable: goes to decomp valve to inside of trans. $30  wire $15 (same as Sparta)