1.

Identification
---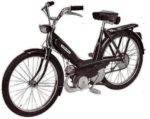 M1  1966-70+
19 inch wheels
no suspension
burgundy color
Isodyne engine
---
M1 P  1967-70+
16 inch wheels
folding model
headlight on fender
burgundy color
Isodyne engine
---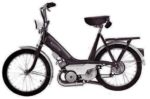 M1 PR  1967-73
16 inch wheels
no suspension
Isodyne engine
color red, blue, white, topaz
sold in Canada by Canadian Tire
---
M1 PRT  1969-73
16-inch wheels
Telescopic fork
color red, blue, white, topaz
Isodyne engine
---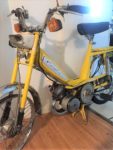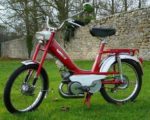 M1 PRTS  1970-73
16-inch wheels
Telescopic fork
rear Suspension
color red, blue, white, topaz
Isodyne engine
---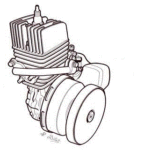 M3 PR  1974-76+
16-inch wheels
no suspension
color white, others
Super Isodyne engine
---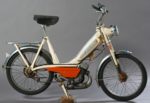 M3 PRT  1974-76+
16-inch wheels
Telescopic fork
color white, others 
Super Isodyne engine
---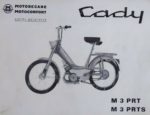 M3 PRTS  1974-76+
16-inch wheels
Telescopic fork
rear Suspension
color red, blue, white, topaz
Super Isodyne engine
sold in Canada by Canadian Tire
---
M3 PRTSG: 1974-76+
16-inch wheels
Telescopic fork
rear Suspension
color red, blue, white, topaz
Super Isodyne engine, separately Greased
2.

Comparison
---
The purpose is to provide replacement parts for Cady, by knowing which parts are the same as on US models. Cady's were sold in Canada, but not in the US.
Here '66-77 Motobecane Cady engine parts are compared with other US-model Motobecane mopeds, '57-64 Wards Riverside and '74-80 Motobecane 50V.

Piston rings: In June 1976 Motobecane piston rings changed on all models. Before 6/76 the the 14821 ring gap style was GN (grano normal) where the piston ring stop pin was on one side of the ring groove. After 6/76 the 22148 ring gap style was GI (grano interno) where the piston ring pin was in the center of the ring groove. 
Piston: Pistons for Isodyne engines (on Cady and Moby X) are special. They have a 11 mm wrist pin, unlike most other 50cc pistons, and a total height of 47.5mm. The cylinder bore is 39mm. More precisely,, the bore ranges from 38.98 to 39.04 mm in seven tiny increments of 0.01 mm, called sorts. Cylinders and pistons are stamped with a letter. The replacement piston should be the same sort as the cylinder (unless the cylinder is worn).
After July 1976 Motobecane stopped making pistons with side-pins. From then on they made only ones with center-pins. The seven sorts of pre-6/76 replacement pistons remaining in the late 1970's were sold until each size ran out. Then only center-pin replacements 22481-22487 were supplied when an older part number 19185-19103 was requested.  
Colors: light grey means superseded, blue means same as AV7 Vc
——- Wards Riverside ——–   Cady   Cady   Cady    Motobecane USA 
AV7 V  AV7Dbe  —-AV7 V2—- isodyne sup-iso sup-iso AV7 Vb  —-AV7 Vc—- < engine model
1.5 hp  1.5 hp  1.5 hp  2.0 hp  1.5 hp  1.5 hp  2.0 hp  2.0 hp 1.5 hp 2.0 hp < horsepower
'57-59  '61-62   1960   '60-64  '66-70 '74-77 '75-77   '74-75 '76-77 '76-77 < year range
14007A 14030 14010A 14010C C1,M1    M3   PRTSG    50V    50V    50V    < bike model     

---
50165  ??????  50294  50298  19093  22200  22329  53745 52341 53745  engine complete
10165  ??????  50294  50298  3 #'s    22201  22313  53745 52341 53745  engine lower assy
14791  14791  14791  16625  19252  22227  22227  19885 19885 19885  cylinder head
14854  14854  14854  14854  19098  19098  19098  14854 14854 14854  head gasket
14816  16618  16618  16618  19081  22202  22202  19478 23460 23460  cylinder with piston
14816  16618  16618  16618  22480  22480  22480  23460 23460 23460  replaced with
14407  16673  16673  16619  19099  22235  00000  16619 16673 16619  intake pipe Ø16
14407  16673  16673  16619  19099  22235  00000  16619 16673 16619  intake pipe Ø17
14407  16673  16673  16619  19099  22235  22235  16619 16673 16619  intake pipe
14815  16620  16620  16620  19100  19100  19100  17073 17073 17073  intake gasket
14819  14819  14819  14819  00000  00000  00000  21240 22275 22275  piston A for 38.97 cylinder
14819  14819  14819  14819  19103c 19185  19185  21242 22276 22276  piston B or C 38.98 cylinder
14819  14819  14819  14819  19103e 19186  19186  21244 22277 22277  piston D or E for 38.99 cylinder
14819  14819  14819  14819  19103g 19187  19187  21246 22278 22278  piston F or G for 39.00 cylinder
14819  14819  14819  14819  19103 j 19188  19188  21248 22279 22279  piston H or J for 39.01 cylinder
14819  14819  14819  14819  19103 l 19189  19189  21250 22280 22280  piston K or L for 39.02 cylinder
14819  14819  14819  14819  19103n 19190  19190  21252 22281 22281  piston M or N for 39.03 cylinder
14819  14819  14819  14819  19103p 19103  19103  21254 22435 22435  piston Q or P for 39.04 cylinder
above is pre-June'76 piston rings, GN gap style (side-pin), below is June'76-on, GI gap style (center-pin)
14819  14819  14819  14819  00000  00000  00000  22275 22275 22275  piston A for 38.97 cylinder
14819  14819  14819  14819  22481  22481  22481  22276 22276 22276  piston B or C for 38.98 cylinder
14819  14819  14819  14819  22482  22482  22482  22277 22277 22277  piston D or E for 38.99 cylinder
14819  14819  14819  14819  22483  22483  22483  22278 22278 22278  piston F or G for 39.00 cylinder
14819  14819  14819  14819  22484  22484  22484  22279 22279 22279  piston H or J for 39.01 cylinder
14819  14819  14819  14819  22485  22485  22485  22280 22280 22280  piston K or L for 39.02 cylinder
14819  14819  14819  14819  22486  22486  22486  22281 22281 22281  piston M or N for 39.03 cylinder
14819  14819  14819  14819  22487  22487  22487  22435 22435 22435  piston Q or P for 39.04 cylinder
14821  14821  14821  14821  14821  14821  14821  14821 14821 14821  piston ring pre-6/'76 39×2 GN
00000  00000  00000  00000  00000  00000  00000  22148 22148 22148  piston ring 6/'76-on 39×2 GI
14895  14895  14895  14895  19097  19097  19097  14895 14895 14895  base gasket
14716  14716  14716  14716  00000  00000  00000  14716 14716 14716  cylinder stud M7-1.00 x 129
14716  14716  14716  14716  19102  19102  19102  14716 14716 14716  cylinder bolt M6-1.00 x 25
14721  14721  14721  14721  19096  19975  19975  14721 14721 14721  decomp valve assembly
15094  15094  15094  15094  19169  00000  00000  15094 15094 15094  piston pin       13 x 30
15094  15094  15094  15094  19169  19169  19169  15094 15094 15094  piston pin       11 x 30
15855  15855  15855  15855  19084  19084  19084  15855 15855 15855  piston bearing 13-16 x 14
15855  15855  15855  15855  19084  19084  19084  15855 15855 15855  piston bearing 11-14 x 14
50230  16903  16903  16903  00000  00000  00000  19609 19609 19609  crankshaft
00518  16906  16906  16906  19175  19645  19645  16906 16906 16906  bearing L 15-42×13 #6302
00518  16906  16906  16906  19175  00000  00000  16906 16906 16906  bearing L 16-42×13 #6302-QR
00518  16906  16906  16906  19175  19645  19645  16906 16906 16906  bearing L 15-42×19 #5302 dbl
00518  16906  16906  16906  19175  19645  19645  16906 16906 16906  bearing L 17-47×14 #6303
00518  16906  16906  16906  19175  00000  00026  16906 16906 16906  bearing R 15-35×11 #6202
00518  16906  16906  16906  19175  00000  00000  16906 16906 16906  bearing R 16-42×13 #6302-QR
00060  00060  00060  00060  00000  000  0000000  19089 19089 19089  crank seal
14814  14814  14814  14814  00000  00000  00000  19608 19608 19608  crankcase
14896  14896  14896  16910  19088  19088  00000  16910 16910 16910  case gasket