P A R T S
 Tomos Parts x  has links to Tomos parts offered elsewhere on this website. This is unfinished…
 Tomos Motor    lists all Tomos A3, A35, A55 engine parts with exploded view illustrations. Most are offered.
 Tomos Models  1. US models with photos and specs, 2. VIN codes, 3. Line drawings
 Tomos Models      4. Myrons Flyers, 5. Tomos History, 6. Euro models, 7. A55 Review  
 Parts Grid 0xx  is a huge grid showing which of 34 model groups each of 2382 Tomos USA parts goes on.
 Parts Grid 0xx      It takes a minute to load and set up.
 Parts Grid 2 x  is the last 20% of the grid, plus a Color Grid showing all painted parts and all bike colors. 
S E R V I C E
Clutch Service xxx   is how to replace the six clutch segments on 1992-18 A35/A55 engines.
HR Throttle Slider    is a low cost fix for 1992-07 HR throttles with stripped pinch screw threads.
Oil Injection Service is service advice for late-model Tomos oil injection equipment.
Assembly xxxxxxxx  is assembly advice for 2008-13 new models out of the box.
Carb Sleeve  xxxxx  is the A55 intake air restrictor, shown before and after cutting (de-restricting).
Trans Oil Leak xxXx is for 2008-13 models with oil leaking from behind the chain sprocket.
Pedal Driveshaft  x  is for 2008-13 pedals that kick backwards normally but spin free forwards.
Electrical xxx xxxx  is a big tutorial of 1996-2018 Tomos electrical and ignition systems.
I N F O
Owners Manual  x  is essential for new owners of 2007-18 Tomos models.
Operating Costs  x is all of the costs required to operate a newer Tomos.
Maintenance  xxxx is scheduled maintenance for newer models.
Performance  xxxx is a brief performance advice for 2007-18 Tomos models.
A55 Tuning.pdf  A technical masterpiece! The best and most complete, by R.L. Vuyk in the Netherlands
Inside the Tomos plant in 2004. See more at Tomos Models.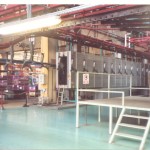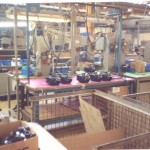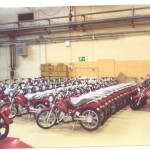 The old part of Koper Slovenia in 2004. No cars are allowed in the historic district.