Welcome to Moped Tools. Prices in green are new, dark green is good-used. N/A means not available.
---
Tire Tools
---
Wheel Tools
---
Wrenches
---
Holder Tools
---
Piston Tools
The piston stop keeps the piston from rising all the way up, and thus prevents the crankshaft from rotating. When the piston is parked against it, the crankshaft nuts can be tightened (or loosened) to the proper torque. Without it the crank nuts cannot be fully tightened or loosened. There are also holder tools that fit into the windows in the flywheel. They perform the same function as a piston stop. A piston stop works on any engine with a straight spark plug, not angled, like most two stroke engines have.
---
Pullers (Extractors) – External Threaded
---
Pullers (Extractors) – Internal Thread
---
Pullers (Extractors), 2-or-3 Bolt
---
Pullers (Extractors), 2-or-3 Jaw
---
Timing Tools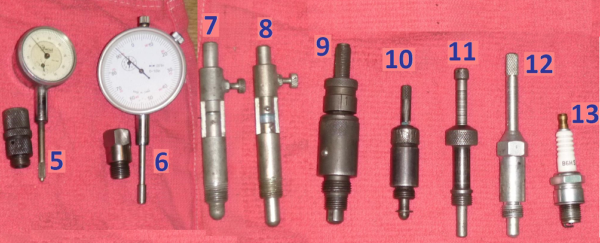 5  vintage dial gauge timing tool   N/A
6  modern dial gauge timing tool  N/A
7 + 8 timing tool Peugeot 69258 N/A
    the 69258 requires a feeler gauge
9  vintage timing tool xxxxxxxxxx N/A
10 vintage timing tool Motobecane $35
11 vintage timing tool xxxxxxxxxx N/A
12 vintage timing tool xxxxxxxxxx N/A
The Timing Tool is actually a Piston Position Indicator Tool. It tells you where the piston is at, in the range near top. You need to know exactly how far the piston is from it's highest point (TDC). where Moped engines fire the spark plug when the piston is 1.5 to 2.0mm before top (TDC). That's the moment when the points open, called the ignition timing. When you loosen the points mounting screw, they can shift, and change the ignition timing. Then you have to adjust the "gap" so they open at the correct moment, which is specified in either piston position (mm) or crankshaft angle (degrees). Vespa and Peugeot set to 1.5mm (0.060″) BTDC, Puch, Motobecane, Tomos, Derbi and others, set to 2.0mm (0.080″). Do not confuse piston position with points gap, which is 0.35mm (0.014″) to 0.46mm (0.018″). A wider points gap will cause an earlier (advanced) ignition timing. A smaller points gap causes a later (retarded) ignition timing. Using a timing tool in the spark plug hole is more accurate than any other method.
---
Peugeot Tools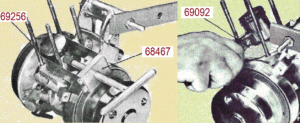 Red part numbers are shown, black are not shown.
part #  price   description and purpose  
68048 N/A Decompressor pin riveting tool
68049 N/A 1.5mm feeler gauge
68457 N/A PEUGEOTEST test light for continuity of points and wires
68460 $25 Clutch drum holding strap
68467 $40 Tool for mounting and removing wrist pin
69079 $08 10mm socket FACOM made in France
69083 $14 16mm socket FACOM made in France
69084 $10 17mm socket FACOM made in France
69085 $10 21mm socket FACOM made in France
69092 N/A Snap ring pliers (original)
69097 $45 Crankshaft extractor
69098 $18 Crankshaft end protector (for M10x1 end)
69104 $18 Torque handle for extended nut (installing crank)
69105 $10 Extended nut attachment for crank installation M10-1.0
69106 $10 Extended nut attachment for crank installation M11-1.0
69107 $10 Ext. nut attachment M12-1.0 (not for Peugeot 103)
69108 $15 Left crankcase guide
69109 $15 Left crankcase drift
69110 $15 Left crank seal guide sleeve
69111 $20 Right crankcase base
69112 N/A Right crankcase guide for the seal
69113 $13 Right crank seal guide sleeve
69114 $15 Right crankcase drift
69115 $18 Right crankcase guide for the bearing
69137 $08 Stepped spacer for installing the crank at the proper angle
69140 $15 Cutaway clutch drum for testing lining clearance
69141 $18 Clutch assembling stand for testing lining clearance
69142 $10 Knurled nut M11x1 for holding clutch while removing pulley
69143 $15 Tapered sleeve for resetting crank into clutch
69145 N/A Special grease for clutch balls
69151 $12 Base for holding oil seal sleeve 69110, while replacing clutch side seal
69153 $18 32mm socket FACOM made in France
69158 N/A Gas tank sealant
69254 $35 Flywheel extractor (original made in France)
69255 N/A Bench mounted engine support
69256 $18 Wrist pin centering tool for installing the pin
69258 N/A (see above) Ignition advance timing tool – see Ignition Timing Tools
69259 $12 Driving pulley holding tool
69260 N/A Engine support spring compressor rod
69646 $35 Rotor holding wrench for magneto
69802 N/A Torque wrench with reducer and lengthener
---
Solex Tools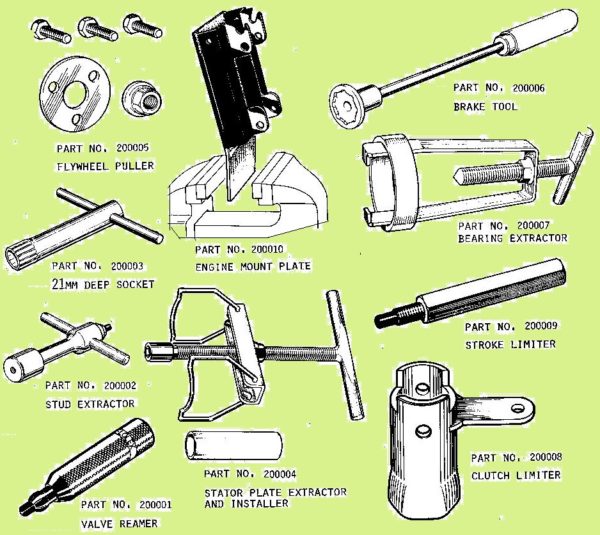 ---
Motobecane Tools