Benelli models with

G2, G2K

engine

s 1974-80
49 cc horizontal cylinder 1-speed, automatic clutch.
G2 engine: (Gentlemen Due 49cc) is on US models 1977-80 Benelli G2, 1976-77 Benelli Blazer, 1978-80 Moto Guzzi, and 1977-80 Moto Guzzi Robin. The G2 engine is a an improved/modernized GM engine, a 25mph horizontal cylinder one-speed automatic, with a Dellorto 9mm sipping straw. The US models all have the same wheels and dual-left-chain drive. The G2 engine is also on UK models 1974-80? Motorella, 1974-80? G2, 1978-80? G2 Elle, 1978-80? G2K .
Benelli G2-USA specs:  40mm piston with same vertical dimensions as Morini, 8.5 comp. ratio, 25mph, 1.5hp at 4400rpm, 150mpg. sprockets 12 x 46T, trans oil 4 oz of 10w40 motor oil, fill plug on lower right is also oil level check plug, cables are all single-ended, seat post 25.0 x 22mm


Benelli G2-USA components: 2.25-16″ tires, Benelli one speed automatic engine, Dellorto SHA 14/9 carburetor, #44 jet. Dansi 101813 magneto (external ignition ground type). CEV 2139 bullet head light, CEV 9400.2 tail light (with resistor for external ignition ground magneto), CEV plastic slide clamp-on switches, PV controls, Grimeca hubs (rear hub is special, has both chains on left side, Benelli only) and brakes, 11mm axles, Veglia speedometer with LH driver, 12×1 female gas valve with special long detachable handle-shaft that goes through a hole in the side panel.
G2 means Gentlemen Due. It supersedes the 1960's Gentlemen. The Benelli G2 and the Moto Guzzi (mono-tube-frame) are identical twins. See Moto Guzzi.
Like the GM, the G2 engine does not have built-in pedals. The external pedal system is unusual with both pedal and motor chains on the left side. Most bicycle chains are on the right side, so a special reverse or "left hand" freewheel is required.
The Benelli Blazer is made by Motobi. It is like a G2 but with a standard tube frame with separate gas tank. The European version is called Benelli Bobo.
Here is a English language 1978 Benelli Service Manual (UK models 50-125cc) a PDF download for the mopeds below and others. Euro models have a Dansi 101662 magneto. Euro models with brake light have Dansi 101813. US models (all with brake light) have Dansi 101441 or 101813.
---
Benelli G2 Engine Parts
Here two Benelli parts manuals Blazer and G2 are combined by using two quantity columns B and G.
Two Moto Guzzi models '76-77 Robin (Chiu) and '78-80 Robin (G2) have the same engines B and G.
Three Benelli part number versions, here called 1970#, 1976# and 1978#, are possible for every part.
The 1976-77 Blazer manual lists 1970# and 1976#. The 1978-80 G2 manual lists 1970# and 1978#.
Combining all three part numbers in one list makes this also a Benelli# conversion chart.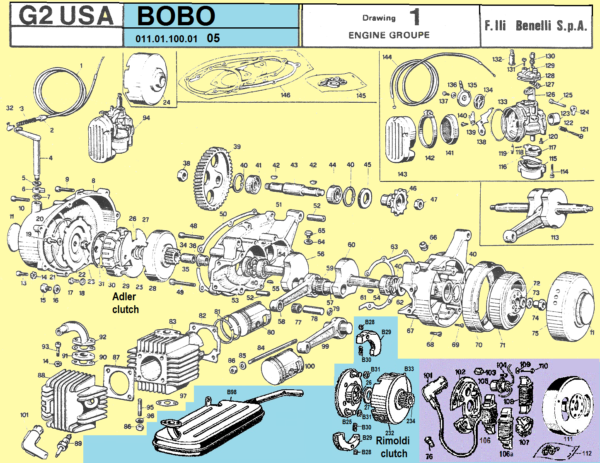 00# 000  1976# 0000  1978# 00  qty
00# 000  1976# 0000  1978# 00  BG  price 0 1970# 00000 description        specs
001  000.000.0.799 71.80.15.25 001  $$.$$ ‌G 0000000 start cable
0B1  239.127.0.799 00.00.00.00 010  $$.$$ ‌FA3706/8   start cable B
002  225.005.0.815 48.80.18.70 011  $$.$$ ‌G7191 000 start cable cap goes in cover
003  326.044.0.799 48.80.25.70 011  $$.$$ ‌G10 00000 start cable coil spring
004  438.001.0.817 48.09.39.70 011  N/A     G7947/C 0 start lever-shaft ∅11
005  901.032.0.200 90.70.61.07 011  $$.$$ ‌G4 000000 start shaft seal ring
006  314.012.0.832 48.08.76.70 011  $12.0 ‌G7948 000 start lever inner
007  904.009.0.100 90.27.10.11 011  $1.50 ‌G7949 000 start shaft circlip 11 x 1.0 (∅10)
008  247.038.0.826 48.00.16.70 011  N/A     N8 000000 clutch cover
009  982.048.0.126 98.62.03.30 055  $0.80 ‌MU1224 0  cover screw M6 x 30 allen
010  982.051.0.126 98.62.03.45 011  $1.00 ‌MU3732 0  cover screw M6 x 45 allen
011  328.127.0.799 48.01.55.81 022  N/A     G 0000000 Benelli emblem
013  917.043.0.125 98.05.23.30 011  $0.60 ‌H8103 000 cover and ex. bolt M6 x 30 hex
014  970.021.0.149 95.02.11.06 011  $0.25 ‌G 0000000 toothed washer ∅6
015  221.010.0.799 39.01.88.00 011  $$.$$ ‌UI189 000  oil filler and check plug
016  383.010.0.799 90.71.41.26 011  $$.$$ ‌L418 0000  check plug gasket
017  916.074.0.125 98.05.43.10 011  $$.$$ ‌MU234 00   oil drain plug
018  287.137.0.799 90.71.40.62 011  $$.$$ ‌L419 0000  drain plug gasket
019  201.030.0.832 48.08.55.70 011  $6.00 ‌G373 0000 start clutch push rod ∅5 x 25
020  383.027.0.799 48.08.64.70 011  $1.50 ‌G369 0000 start clutch washer ∅5 ∅11.5 x 0.5
021  203.043.0.799 71.08.32.00 011  $6.00 G418 0000 clutch clip ring ∅95 x 2.0
022  000.000.0.000 71.08.28.00 001  N/A     G 0000000 starter disk
B22  263.072.0.799 00.00.00.00 010  N/A     G415 0000 starter disk B
023  264.026.0.799 92.70.11.13 011  $$.$$ ‌N161 0000 clutch nut
024  000.000.0.000 71.08.00.25 001  N/A     G 0000000 Adler clutch assy
B24  272.002.0.799 00.00.00.00 010  N/A     G 0000000 Rimoldi (B) clutch assy
025  000.000.0.000 71.08.17.00 001  N/A     G 0000000 clutch housing w/puller threads
B25  774.012.0.799 00.00.00.00 010  N/A     G374/1 00  clutch housing B w/puller threads
026  904.013.0.100 90.27.10.15 011  $1.50 MU3813 0  circlip external type ∅15
027  378.016.0.799 48.06.68.70 011  $$.$$ ‌G5 000000 washer
028  000.000.0.000 71.08.44.25 001  N/A     G 0000000 clutch drum ∅95 id
B28  793.042.0.799 00.00.00.00 020  N/A     G7944/100 adjustment screw B
029  000.000.0.000 71.08.20.00 003  N/A     G 0000000 clutch shoe-weight
B29  764.001.0.799 00.00.00.00 020  N/A     00 000000 clutch shoe-weight B
030  000.000.0.000 71.08.41.00 001  $12.0 G 0000000 circular coil spring
B30  759.025.0.799 00.00.00.00 020  N/A     G7944/300 spring B
031  000.000.0.000 71.08.26.00 001  N/A     G 0000000 triangular spring plate
B31  904.008.0.100 00.00.00.00 020  N/A     MU815300 circlip B
032  000.000.0.000 48.80.24.70 001  $$.$$ ‌M277 0000 start cable pinch bolt
B33  719.004.0.799 00.00.00.00 010  N/A     G416/1000 clutch drum B
034  300.028.0.815 48.07.04.70 011  N/A     G2 000000 drive gear
035  218.034.0.815 48.07.03.70 011  $$.$$ ‌G3 000000 clutch drum bushing 15-??-??
036  218.037.0.815 48.08.38.70 011  $$.$$ ‌N18 00000 clutch spacer with lip 15-20-??
038  264.024.0.799 48.21.92.70 011  $$.$$ ‌L837  0000 drive shaft nut
039  300.029.0.815 48.21.58.70 011  N/A     N21 00000 driven gear
040  903.030.0.100 90.27.20.35 011  none   N12 00000 circlip internal type ∅35
041  922.008.0.100 92.20.11.17 011  $10.0 ‌MU7038/1  right drive shaft bearing #6003 17-35-10
042  958.009.0.143 91.70.13.50 022  $$.$$ ‌MU164 00  drive shaft woodruff key
043  200.013.0.815 48.21.36.70 011  N/A     N19 00000 drive shaft
044  922.015.0.100 82.20.12.15 011  $8.00 ‌MU86/1 00 left drive shaft bearing #6202 15-35-11
045  900.119.0.200 90.40.25.35 011  $5.00 ‌N34 00000 drive shaft seal 25-35-7
046  303.008.0.815 48.33.05.70 011  N/A     N20/1 000 sprocket 12 tooth
047  264.023.0.799 92.70.11.22 011  $$.$$ ‌U124 0000 sprocket nut
048  982.052.0.126 98.62.03.50 066  $1.00 ‌MU1230 0   case bolt M6 x 50 allen
049  982.053.0.126 98.62.03.55 011  $1.20 ‌G 0000000  case bolt M6 x 55 allen
050  287.045.0.799 48.00.17.70 011  $7.00 ‌N25 00000 trans cover gasket
051  235.008.0.815 48.00.11.70 011  N/A     N3 000000 right case half
052  368.022.0.815 35.00.20.00 011  $$.$$ ‌G507 0000 centering dowl-tube ∅11
053  900.090.0.200 90.40.20.35 011  none   ‌N33 00000 right crank shaft seal 20-35-8 use 20-35-7
S53  000.000.0.000 90.40.20.35S 11  $7.00 ‌G 0000000 substitute seal 20-35-7
054  922.014.0.100 92.20.12.16 022  $12.0 ‌MU86 000  L and R crank bearing #6202C3 15-35-11
055  958.007.0.143 91.60.03.37 011  $$.$$ ‌MU3817 00clutch woodruff key
056  425.013.0.815 48.00.11.70 011  N/A     N159 0000 right crank half
057  370.009.0.815 48.06.50.70 011  N/A     G633 0000 crank pin
058  215.021.0.815 48.06.16.70 011  N/A     G628 0000 con rod
059  290.006.0.799 92.25.22.21 011  N/A     G327 0000 rod bearing
060  425.015.0.815 48.06.43.70 011  N/A     N136 0000 left crank half
061  958.006.0.143 91.60.02.38 011  $$.$$ ‌G7274 000 flywheel woodruff key
062  900.051.0.200 90.40.15.36 011  none   ‌N11 00000 left crank seal 15-35-10 use 15-35-7
S62  000.000.0.799 90.40.15.36S 11  $7.00 ‌G 0000000 substitute seal 15-35-7
063  287.044.0.799 48.00.09.70 011  $7.00 ‌N24 00000 case gasket
064  287.138.0.799 90.71.40.80 011  $$.$$ ‌L493 0000 vent ring gasket
065  000.000.0.000 48.00.46.71 011  N/A     L492 0000 transmission case vent
066  288.059.0.799 91.55.10.70 011  N/A     UI281 000 magneto wires grommet
067  235.010.0.815 48.00.08.70 011  N/A     N2 000000 left case half
068  983.042.0.125 98.20.04.10   33  $1.30 MU1147 0  stator plate screw M4 x 10 slot
069  984.075.0.125 98.28.06.14 033  none   N7 000000 screw M6 x 14 slot-sunk
070  247.036.0.815 48.00.04.70 011  N/A     N6 000000 magneto cover base
071  000.000.0.000 71.71.24.25 001  N/A    G 0000000  magneto assy 1978-80 G2 (USA) Dansi 101813
071  000.000.0.000 00.00.00.00 000  N/A    G 0000000  magneto '78-80 G2, Bobo (Euro) Dansi 101662?
B71  000.000.0.000 48.71.24.90 010  N/A    G 0000000  magneto assy '76-77 Blazer (US) Dansi 101441
071  427.027.0.799 00.00.00.00 000  N/A    N14 00000  magneto '70-77 G2, Bobo (Euro) Dansi MDP44
071  and 101-111  see Dansi Magnetos
072  971.301.0.210 95.10.12.75 011  $0.20 ‌UI7091  00 plain washer ∅8 ∅14
073  970.029.0.149 95.02.11.09 011  $0.50 ‌N28 00000 toothed washer ∅8
074  000.000.0.000 48.71.95.70 001  $7.50 ‌G 0000000 flywheel nut M8-1.0 x 16 hex14x6 ∅13×10
B74  264.025.0.799 00.00.00.00 010  N/A    ‌UI7090 000 flywheel nut M8-1.0 x 14 hex14x6 ∅13×8?
S74  000.000.0.000 48.71.95.70S 01  $5.00 ‌G 0000000 substitute nut M8-1.0 plus spacer ∅13×8
075  247.027.0.820 48.00.03.71 011  N/A    ‌G7775 000  magneto cover aluminum 126 id
076  288.086.0.799 00.00.00.00 000  N/A    G 0000000  plug for internal-spark magneto MDP44 ?
077  290.003.0.799 92.25.20.12 011  $9.00 ‌LB157 000 piston needle bearing 12-15-15
078  397.007.0.815 48.06.12.70 011  $7.00 ‌LB156 000 piston pin ∅12 x ?
079  903.007.0.100 90.27.20.12 022  $1.00 ‌MU339 00  piston clip ∅12
080  000.000.0.000 70.06.04.00 001  N/A     G7346 000 piston bare dome top hi-comp use #100
B80  356.063.0.799 00.00.00.00 010  N/A     N257 0000 piston bare  flat top  lo-comp  use #100
081  208.010.0.799 48.06.08.70 022  $10.0 ‌G7347/S 0  piston ring Std 40.0 x 1.5 GN
081  700.007.0.799 48.06.08.72 022  $22.0 G7347/S2   piston ring 1os 40.2 x 1.5 GN
081  700.008.0.799 48.06.08.74 022  none   G7347/S4   piston ring 2os 40.4 x 1.5 GN
081  700.009.0.799 48.06.08.76 022  $16.0 G7347/S6   piston ring 3os 40.6 x 1.5 GN
082  287.043.0.799 48.02.08.70 011  $9.00 ‌N23 00000 base gasket
083  234.063.0.815 48.02.03.70 011  $$.$$ ‌G321 0000 cylinder
084  359.138.0.799 96.50.61.05 044  $4.00 ‌G7483 000 cylinder stud M6 x 105
085  967.036.0.110 95.00.02.06 044  $0.20 ‌MU322 000 head washer ∅6
086  935.017.0.116 92.60.22.06 066  $0.40 ‌MU280 000 head & ex. nut M6
087  287.009.0.799 48.02.20.70 011  $12.0 ‌G7010 000 head gasket
088  400.038.0.815 48.02.24.70 011  N/A     N322 0000 head
089  928.008.0.200 35.71.70.00 011  $3.00 ‌G 0000000 spark plug W175T2 = W7C = NGK B6ES
090  000.000.0.799 48.11.59.70 022  $6.00 ‌G7015/100 intake gasket
091  000.000.0.799 48.11.55.70 011  N/A     N15 00000 intake spacer
092  000.000.0.000 48.11.50.70 001  $$.$$ ‌N24 00000 intake pipe
B92  232.011.0.799 00.00.00.00 010  N/A     N27 00000 intake pipe
093  982.046.0.126 98.62.23.20 022  $0.70 ‌MU8034 00 intake screw M6 x 20 allen
094  000.000.0.000 71.11.26.11 001  N/A     G 000000  carburetor assy Dellorto SHA 14/9 jet 44
B94  239.048.0.799 00.00.00.00 010  N/A     G 000000  carburetor assy Dellorto SHA 14/9 jet 45
095  359.108.0.799 96.50.60.26 022  $2.00 ‌UI7496  0  exhaust stud M6 x 26
096  968.011.0.249 61.01.38.00 022  $0.25 ‌MU18 000  exhaust washer ∅6
097  287.046.0.799 48.12.03.70 011  $6.00 ‌N30 0000  exhaust gasket
098  000.000.0.000 00.00.00.00 001  $70.0 ‌000 0000  long 2-piece exhaust
B98  392.004.0.715 00.00.00.00 010  N/A     N251/100  pancake exhaust
099  712.002.0.799 48.06.14.70 011  N/A     G628/A 0  connecting rod assy
100  000.000.0.000 70.06.02.20 001  $65.0 ‌G7346/C    piston assy Std 40.0 x 17-12-18 GOL
800  000.000.0.000 70.06.02.22 001  N/A     G7346/C2  piston assy 1os 40.2 x 17-12-18
080  000.000.0.000 70.06.02.24 001  N/A     G7346/C4  piston assy 2os 40.4 x 17-12-18
800  000.000.0.000 70.06.02.26 001  N/A     G7346/C6  piston assy 3os 40.6 x 17-12-18
113  223.013.0.818 48.06.40.70 001  N/A     N325 0000 crankshaft assembled